Historic Sites in Worcestershire
The northern reaches of
Worcestershire
are quite developed, and partly industrial, around Kidderminster and the outer suburbs of Birmingham, but most of the land is rural. The most famous natural areas are along the borders, shared with adjacent counties;
Malvern Hills
in the southwest, the
Cotswolds
to the southeast, and the
Wyre Forest
in the northwest. The River Severn flows southwards right through the middle of Worcestershire, and the main city of Worcester, and is surrounded by rolling farmland and small woods, a landscape that makes up the majority of the county; there are no particularly high hills or dramatic geological features.
Unlike most English counties, Worcestershire contains no surviving castles, only several follies and castellated mansions; the few castles that were built have long been destroyed, leaving little or no trace. There are also no significant Roman sites or prehistoric relics, but the county does have many fine religious buildings, most famous being
Worcester Cathedral
, and a small collection of medieval barns.
Cathedrals
, and other major churches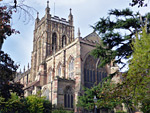 Great Malvern Priory
Large parish church, formerly part of a Benedictine monastery, with collections of medieval stained glass and wall tiles



Rating:

★★★★

★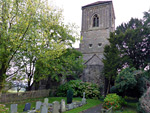 Little Malvern Priory
Picturesque parish church at the foot of the Malvern Hills, occupying part of a larger building from a 12th century Benedictine monastery



Rating:

★★★

★★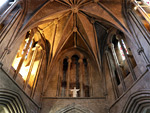 Pershore Abbey
Surviving section of the church from a medieval abbey, featuring intricate lierne vaulting, a huge tower and various historic artifacts



Rating:

★★★

★★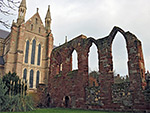 Worcester Cathedral
Typically grand and ornate cathedral, built partly in the perpendicular Gothic style. Contains the tomb of King John, and memorials to many other important people



Rating:

★★★★★
Historic Buildings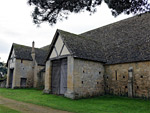 Bredon Barn
Historic agricultural building using timber and Cotswold stone, little changed from the 14th century



Rating:

★

★★★★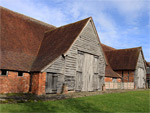 Leigh Court Barn
Huge, 14th century cruck-framed barn, the largest building of this type in the country, and one of the oldest



Rating:

★★

★★★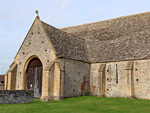 Middle Littleton Tithe Barn
Substantial, timber and limestone barn from the mid 13th century, in a quiet, rural location; amongst the best preserved in the country



Rating:

★

★★★★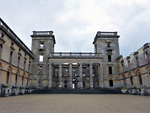 Witley Court
Evocative ruins of an extravagant 17th century country house, destroyed by fire in 1937. Surrounded by extensive landscaped gardens



Rating:

★★★

★★
Landscapes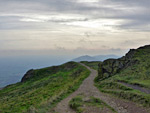 Malvern Hills
Relatively long, tall and narrow range of hills, lying along the border with Herefordshire; an Area of Outstanding Natural Beauty



Rating:

★★★★

★
Map of Featured Worcestershire Locations