The Welsh county borough of
Bridgend
, centred on the town of the same name, extends for 12 miles west to east and a similar distance south to north, from the mostly sandy coastline of the English Channel to several elevated ridges between narrow valleys; the tallest peak is Werfa, at 568 metres. The M4 crosses the borough towards the south, approximately separating the flat lowlands around the coast from the higher, more undulating country to the north.
Besides Bridgend, the other two main settlements are Porthcawl, by the sea, and Maesteg in the northwest, at the upper end of the Llynfi Valley. To the east, three other major valleys are Cwm Garw, Cwm Ogwr Fawr and Cwm Ogwr Fach, their sides covered by a mix of conifer plantations and grassy moorland. The streams from all four join to form the Ogmore River, which at its southern end defines the county boundary to the east (adjoining
Vale of Glamorgan
). The 8 mile stretch of coastline from here to Kenfig Sands at the border with
Neath Port Talbot
is bordered partly by low cliffs and offshore rocks, around Porthcawl, and partly by extensive dunes, stretching over a mile inland. The dunes in the west are part of Kenfig National Nature Reserve, a large area that also includes Kenfig Pool, a sizeable lake whose surroundings are home to a number of rare plant species, while the sands further east are within
Merthyr Mawr National Nature Reserve
, also containing many wildflowers.
Bridgend contains 57 scheduled monuments; ancient sites include standing stones, tombs, barrows, cairns and hillforts, plus a cave, a cross and a dyke. There are five more significant places from the medieval period, as listed below.
Historic Sites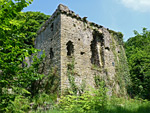 Candleston Castle
Ivy-clad remains of a 14th century fortified mansion, on a wooded promontory close to the coast and the dunes of Merthyr Mawr



Rating:

★★

★★★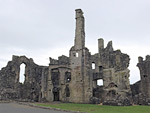 Coity Castle
Substantial ruins of a Norman castle, with later additions; an inner bailey enclosed by tall walls, adjoining a larger outer bailey



Rating:

★★★★

★

Kenfig Castle - minor, overgrown ruin from the 12th century, partly buried beneath sand dunes, next to the site of a medieval village


Newcastle Castle - tall wall with a fine arched gateway, and a section of a tower, from a major Norman castle in the centre of Bridgend


St Roque's Chapel - small, ruined, 15th century church, within the grounds of Merthyr Mawr House

Landscapes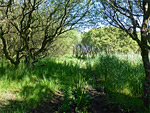 Kenfig National Nature Reserve
Varied coastal dune habitats, including sand, slacks, grassland, marsh, woodland and beaches, supporting a great range of plants and animals



Rating:

★★★★

★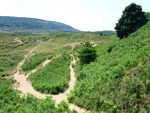 Merthyr Mawr National Nature Reserve
Coastal sand dunes near the River Ogmore; grassy near the sea, more overgrown further inland. Home to many wildflower species



Rating:

★★★

★★