Sites in Vale of Glamorgan
Vale of Glamorgan
, the southernmost county in Wales, extends from the west side of Cardiff to just east of Bridgend, and includes a scenic, 30 mile stretch of coastline, between Penarth and Ogmore-by-Sea; all the area is south of the M4. Adjacent counties, all to the north, are
Bridgend
,
Rhondda Cynon Taf
and Cardiff. Most of the land is fairly flat, or gently undulating, crossed by little rivers, which often form shallow, steep-sided valleys. There are some low ranges of hills, and patches of woodland, but all the best landscapes are along the coast.
The most visited section of the coastline is around
Barry
, site of a large holiday park, facing Whitmore Bay. The stretch to the east, extending to Cardiff, is also quite developed, but to the west the coast becomes steadily more rural, and more photogenic. The best section is around
Southerndown
, centred on
Dunraven Bay
, but there are plenty of lesser known locations. The coast is characterised by golden sand beaches backed by thin-layered limestone cliffs, also rich yellow/brown in colour - unlike the usual greys of other cliffs along the Bristol Channel - alternating with pebble beaches and rocky patches where the level or slightly inclined strata are eroded to form parallel or curving ridges, flat terraces and other photogenic shapes. The most spectacular part (14 miles), from Porthcawl in the west to Aberthaw in the east, is recognised as the
Glamorgan Heritage Coast
.
Vale of Glamorgan is noted for its unusually large number of castles or castellated mansions, for a relatively small area; also of interest are two burial chambers (St Lythans and Tinkinswood), and the monastic church of
Ewenny Priory
.
Castles
, including manors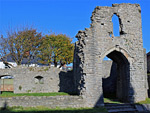 Barry Castle
Limited remains of a fortified mansion in a residential suburb of Barry; a hall and a two story gatehouse



Rating:

★

★★★★

Boverton Place - substantial ruins of a large country house, built in the late 16th century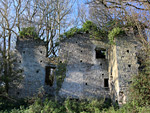 East Orchard Castle
Overgrown remains of a sizeable mansion from the 14th century, including a barn, chapel, dovecote and hall



Rating:

★★

★★★

Fonmon Castle - 12th century castle, renovated and altered in the 18th century, surrounded by gardens, and still occupied. Tours available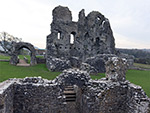 Ogmore Castle
Small but pretty castle remains in a peaceful, rural location beside the River Ewenny



Rating:

★★★

★★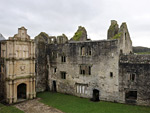 Old Beaupre Castle
Ruins of a large medieval mansion near the River Thaw; nearly complete, with fine carving and masonry



Rating:

★★★

★★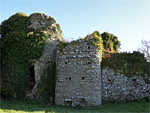 Penmark Castle
Partial, overgrown ruins of a 13th century castle, including walls and a two-storey tower, overlooking the River Waycock



Rating:

★

★★★★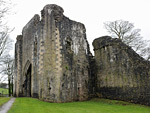 St Quintin's Castle
Substantial, twin-towered gatehouse, curtain wall remnants and tower foundations, mostly built in the early 14th century. Also known as Llanblethian Castle



Rating:

★★

★★★
Churches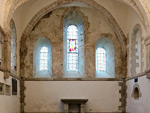 Ewenny Priory
Parish church occupying part of a 12th century abbey, with a partly ruined fortified exterior



Rating:

★★★

★★



Landscapes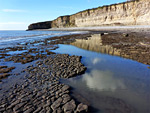 Aberthaw to Stout Bay
Cliffs, terraces and pebble beaches along the easternmost three mile portion of the Glamorgan Heritage Coast



Rating:

★★★

★★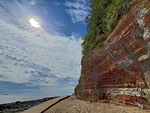 Barry
Varied section of the coast - golden sand, grey limestone terraces and red mudstone cliffs



Rating:

★★★

★★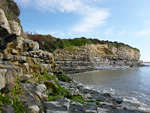 Barry to Aberthaw
Five mile stretch of the coast; long cliffs of thin-layered limestone above terraces and pebble beaches



Rating:

★★★

★★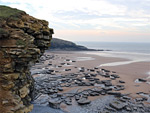 Dunraven Bay to Cwm Mawr
Cliffs, beaches and eroded rock formations along the Glamorgan Heritage Coast near Southerndown, plus gardens, a ruined mansion and a waterfall



Rating:

★★★★★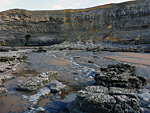 Nash Point to Cwm Mawr
Cliffs, terraces, beaches and rock pools along a three mile stretch of the coast, plus a stream with travertine formations



Rating:

★★★★

★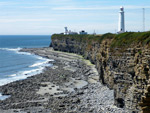 Nash Point to Stout Bay
Varied, little-visited, four-mile section of the Glamorgan Heritage Coast, with layered, vertical cliffs of blue lias above extensive wave-cut terraces



Rating:

★★★★

★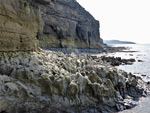 Ogmore-by-Sea
Wide sandy beach giving way to sheer limestone cliffs with caves, terraces and other eroded formations



Rating:

★★★★

★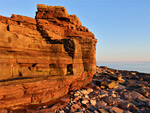 Sully Bay to Barry
Wide bay with grey pebbles and muddy terraces, bordered to the west by more photogenic red cliffs and eroded formations



Rating:

★★★

★★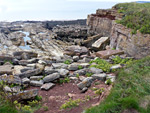 Sully Island to Lavernock Point
Headland, layered cliffs, level terraces, sand and pebble beaches, and an undeveloped tidal island



Rating:

★★★

★★
Map of Featured Vale of Glamorgan Locations