Hendover Coppice Nature Reserve, Dorset
Narrow strip of ancient woodland across a steep, northeast-facing slope, with particularly dense bluebells in the spring. Also home to several rare plant species
Location
Hilfield, along an unnamed lane 2 miles east of the A37; DT2 7BE
Hendover Coppice
in west Dorset is a typical woodland nature reserve containing a mix of young and old trees, stretching in quite a narrow band along the steep, northeast-facing side of a spur of high ground extending from
Gore Hill
, on the south side of Blackmore Vale. As its name suggests, the wood has been used for coppicing for several centuries, and in more recent times was partly planted with conifers though these have since been removed and the vegetation reverted to the original, mostly ash and hazel. Between the trees, the upper slopes are covered with particularly dense patches of bluebells in the spring, while elsewhere is the usual range of common woodland wildflowers. Three rarer species found here are
herb paris
,
bird's nest orchid
and fly orchid.
A path crosses the southern third of the reserve, linking the two entrances, and another path follows close to the west edge, running through an adjacent field, at the edge of
Batcombe Down
, but the rest of the reserve seems to be trailless. The site is quiet and peaceful, and not much visited since it has a rural location, away from main roads, and is not signposted.
The Reserve

One road runs past the south edge of Hendover Coppice Nature Reserve - an unnamed route between the A352 and A37, and this links to a narrower lane that follows the lower (east) side; along here is another road, to Hilfield village and also the Friary of St Francis, a religious retreat. One entrance to the reserve is opposite this junction but the main access is at the southern end, just west of the other junction. The path linking the two entrances starts, in the south, through relatively open ground, one of the best wildflower locations, before descending slowly into the woods, through the main bluebell area, past a log cabin then more steeply down into gradually darker and moister woodland. Beyond here the undergrowth remains fairly light so walking off trail further north is possible though the vegetation and scenery do not seem to change significantly. Although the tall trees prevent any sight of the wider landscape within the woodland, the other path, through the field beside the west edge of the trees, does have some long distance views, towards its north end.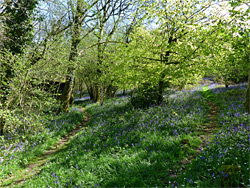 Two paths
/div>