Photogenic Landscapes and Historic Sites in Dorset
The most spectacular landscapes in
Dorset
are found along the coast which, including the unitary authority areas of Poole and Bournemouth, extends for 55 miles west to east, from
Lyme Regis
bordering the East Devon Area of Outstanding Natural Beauty, to Christchurch, close to New Forest National Park. Most forms part of the
Jurassic Coast
, famous for its exposed, fossil-bearing strata, which are eroded into a great variety of formations. Within Dorset, the best stretches of coastline are from
Lyme Regis to Seatown
, and on to West Bay (8 miles) - as this has beaches beneath a line of high cliffs, and some rocky promontories - and especially, the 30 miles from Weymouth Bay to Studland, the
Purbeck Heritage Coast
; contained within this area are numerous coves, sea stacks, peninsulas, arches and reefs, including such famous locations as Old Harry Rocks,
Lulworth Cove
and
Durdle Door
. In between these two stretches the land is low and flat, bordered by long, little-changing sandy beaches, and so is generally less scenic, apart from the southernmost point at the
Isle of Portland
, a sizeable, semi-detached limestone headland.
Away from the coast, most of Dorset is hilly, and the county is crossed by several broad ranges of chalk uplands, forming the Dorset Downs and part of Cranborne Chase (which extends into
Hampshire
and
Wiltshire
), plus a narrower range in the southeast, across the Isle of Purbeck. Between the hills are broad valleys, sprinkled with patches of woodland, all part of a predominantly rural landscape that has few large towns or major roads, so travel across the county can be rather slow.
Although lacking any cathedrals, Dorset has plenty of historic churches, some dating from Saxon or early Norman times.
Sherborne Abbey
and
Christchurch Priory
are amongst the finest of these. There are several ruined abbeys and chapels across the county, though none is particularly large. Prehistoric relics are limited to earthworks, burial mounds and a few minor stone circles. By far the most spectacular castle in Dorset is at
Corfe
, perched on top of a steep-sided hill; other notable examples are in
Christchurch
and Sherborne.
Castles
Christchurch Castle
Small ruins of a Norman keep, adjacent to a well-preserved riverside house from the same period



Rating:

★★

★★★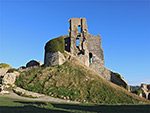 Corfe Castle
Large, ruined castle with a spectacular location on top of a steep-sided hill; construction started in the 11th century



Rating:

★★★★★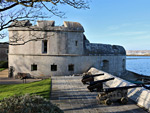 Portland Castle
Well preserved coastal fort built by Henry VIII, overlooking Portland Harbour; gun block, residential building and gardens



Rating:

★★★

★★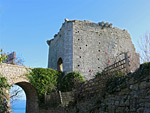 Rufus Castle
Minor ruins on a cliff edge, overlooking the coast, on the east side of the Isle of Portland



Rating:

★★

★★★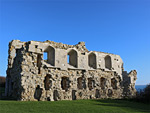 Sandsfoot Castle
Ruins of a small shoreline fort beside Portland Harbour, built in 1542 by Henry VIII; also known as Weymouth Castle



Rating:

★★★

★★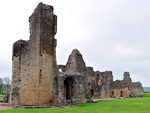 Sherborne Old Castle
Atmospheric ruins of a large, 12th century fortification surrounded by lawns and woodland, beside a late 16th century castellated mansion



Rating:

★★★★

★
Churches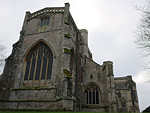 Christchurch Priory
The longest parish church in England, built in the 12th century, and relatively unaltered since the Reformation



Rating:

★★★★

★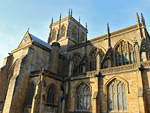 Sherborne Abbey
Ancient parish church with with spectacular medieval architecture; formerly a Saxon cathedral and a Catholic abbey



Rating:

★★★★★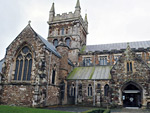 Wimborne Minster
Fine Norman church with some Saxon components, originally part of a monastery; includes a vaulted crypt, a 14th century astronomical clock and a 17th century chained library



Rating:

★★★

★★
Landscapes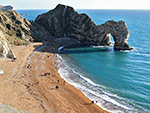 Durdle Door and Lulworth Cove
Sea arch and a circular cove, part of a varied section of the coast that also has headlands, sandy beaches, chalk cliffs and other eroded formations



Rating:

★★★★★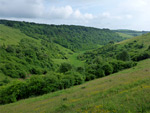 Fontmell Down
Chalk downland nature reserve, part of Cranborne Chase; a mix of woodland, scrub, meadows and steep, grassy slopes



Rating:

★★

★★★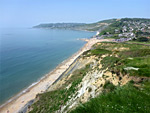 Lyme Regis to Seatown
High cliffs, wildflower meadows and pebble beaches along five miles of the Jurassic Coast, including Charmouth, Stonebarrow Hill and Golden Cap



Rating:

★★★★

★
Ruined Abbeys
, and other old religious buildings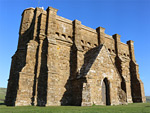 Abbotsbury Abbey
Relics from a once large monastery near the coast; a wall fragment, a tithe barn, church foundations and the detached St Catherine's Chapel



Rating:

★★

★★★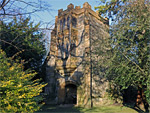 Cerne Abbey
Limited remains of a Benedictine monastery; a porch (once the entrance to a great hall), a guest house and a tithe barn



Rating:

★★

★★★

Knowlton Church - ruins of a medieval church within a prehistoric earthwork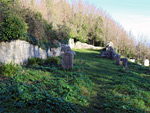 St Andrew's Church
Overgrown ruins of a 15th century church, on the Isle of Portland, in use until the 1750 when it was abandoned because of nearby landslips



Rating:

★

★★★★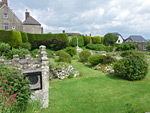 Shaftesbury Abbey
Relics from an ancient abbey (founded 888), mostly low foundations, now incorporated into a garden, accompanied by a museum



Rating:

★

★★★★
Map of Featured Dorset Locations