Dorset Area of Outstanding Natural Beauty

Dorset Area of Outstanding Natural Beauty contains about 44% of Dorset, and is entirely within the county, including the greater part of its coastline - from Lyme Regis on the border with Devon, eastwards to the Isle of Purbeck (Studland Point) and Poole Harbour, though excluding Weymouth and the Isle of Portland. This section comprises the majority (78 miles) of the Jurassic Coast, famous for its fossils and spectacular cliffs of sedimentary rocks, very varied in colour and form, and overlooking lengthy beaches of sand and pebbles, all explorable at sea level, at low tide, or via by the coast path above. The one exception is the section northwest of Weymouth, where for 18 miles the cliffs give way to the gravel barrier of Chesil Beach, sheltering an extensive tidal lagoon, East Fleet and West Fleet.

Inland, the 436 square mile AONB is dominated by a broad band of chalk hills, stretching from the lower Stour Valley at Bridgeport, northeastwards to Blandford Forum, and continuing into the adjacent Cranborne Chase AONB, with a narrower spur extending southeast into the Isle of Purbeck. The calcareous grassland on the downs supports rich and varied plant life, seen in several dozen local and national nature reserves. Around the hills are many valleys, harbouring sheltered woodland and coppices.

Also within Dorset AONB are a good number of historic sites, including ruined abbeys and medieval castles.




Historic Sites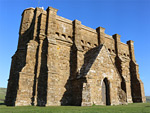 Abbotsbury Abbey
Relics from a once large monastery near the coast; a wall fragment, a tithe barn, church foundations and the detached St Catherine's Chapel



Rating:

★★★

★★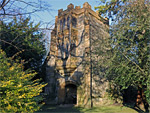 Cerne Abbey
Limited remains of a Benedictine monastery; a porch (once the entrance to a great hall), a guest house and a tithe barn



Rating:

★★

★★★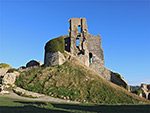 Corfe Castle
Large, ruined castle with a spectacular location on top of a steep-sided hill; construction started in the 11th century



Rating:

★★★★★
Landscapes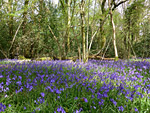 Bracketts Coppice
Over 100 acres of ancient woodland, plantations, pasture and rough grassland, centred on the shallow valley of a fast-flowing stream



Rating:

★★

★★★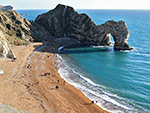 Durdle Door and Lulworth Cove
Sea arch and a circular cove, part of a varied section of the coast that also has headlands, sandy beaches, chalk cliffs and other eroded formations



Rating:

★★★★★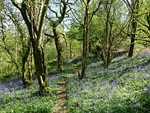 Hendover Coppice
Ancient woodland across a steep, northeast-facing slope, with particularly dense bluebells in the spring



Rating:

★

★★★★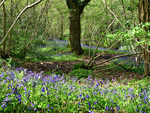 Hibbitts Woods
Ancient woodland on gently sloping ground crossed by a few tiny streams, plus a small wildflower meadow



Rating:

★

★★★★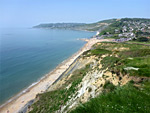 Lyme Regis to Seatown
High cliffs, wildflower meadows and pebble beaches along five miles of the Jurassic Coast, including Charmouth, Stonebarrow Hill and Golden Cap



Rating:

★★★★

★
Map of Featured Locations