The unitary authority of
Bristol
contains the city center and most of the northern suburbs, as far as Eastville and Westbury-on-Trym; the area beyond is part of (South)
Gloucestershire
, while to the south the city is bordered by
Somerset
, with the western River Avon forming part of the boundary, as far as Hotwells. By far the most spectacular natural landscape feature is the
Avon Gorge
, where the river flows between limestone cliffs up to 300 feet high, but also of note are the secluded, tree-lined corridor of the River Frome, and the woods and meadows of Blaise Castle Estate.
The best of the many religious buildings are
Bristol Cathedral
and
St Mary Redcliffe Church
. There are no major ancient ruins; the city once had a fine Norman castle but this was largely destroyed in 1656, and very few traces remain today.
Landscapes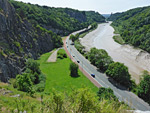 Avon Gorge
Spectacular ravine along the River Avon, between limestone cliffs up to 300 feet high. A noted wildflower location



Rating:

★★★★

★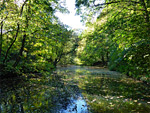 Frome Valley Walkway
Southern section of a path along the valley of the River Frome, here mostly thickly wooded and steep-sided - from Eastville Park to Hambrook



Rating:

★★★

★★
Religious Buildings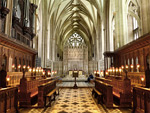 Bristol Cathedral
A former abbey, which became a cathedral in 1542, and is designed mostly in the Decorated Gothic style, with components from the 12th to 19th centuries



Rating:

★★★★★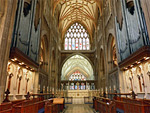 St Mary Redcliffe
Beautiful parish church near the River Avon, built in the Gothic style mostly in the 13th and 14th centuries



Rating:

★★★★★