Dartmoor National Park
covers 370 square miles of south
Devon
, 14% of the land in the county, and around two thirds is Dartmoor itself, an oval-shaped upland area over 20 miles across from north to south. The moor is underlain by the largest outcrop of granite in the UK, though in most places this is covered by earth and peat; the rocks are most visible at the numerous isolated summits, known as tors, numbering well over one hundred. These are typically formed of a jumbled array of blocks split by fissures, and are often very photogenic;
Haytor
is perhaps the most famous location.
The remainder of the national park, east of the main part of the moor, includes smaller, more isolated hills separated by patches of farmland and drained by branched river valleys, often quite steep-sided and thickly wooded; the largest is the
River Dart
, which originates, as two branches (East Dart and West Dart), on the slopes below 1,980 foot
Cut Hill
at the centre of the moor. The tallest summit, a few miles north, is
High Willhays
, 2,037 feet.
Dartmoor has a long history of use and settlement, as shown by numerous relics from the Bronze Age and late Neolithic period, when the climate was generally wetter, the land mainly forested, and many small settlements were spread across the hills. Visible remnants include stone circles, standing stones, burial mounds and hut circles, together with abandoned houses and villages from the medieval period and later. Many are surprisingly well preserved due to the durability of the granite blocks used in their construction.
The uplands are crossed by innumerable tracks and paths, and the lack of trees plus the relatively gentle topography mean that cross-country walking is possible in most areas. The only significant obstacle though are the many bogs that tend to form in shallow depressions; due to the high elevation the moor recieves much rainfall, which is readily absorbed and retained by the thick, peaty soils, resulting in the ground staying wet most of the year.
The bogs - both upland blanket bogs and valley mires - are one of the important wildlife and plant habitats of the national park, along with the exposed granite that supports many lichens and mosses, and the ancient oak woodland that covers the river valleys and some of the lower slopes.
Dartmoor Locations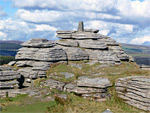 Bellever Tor
Large tor with much exposed, weathered granite, offering panoramic views; at the centre of the national park



Rating:

★★★

★★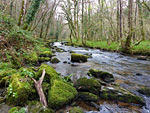 Blackadon Nature Reserve
Ancient woodland, riverbanks, moorland and a tor, at the edge of Dartmoor



Rating:

★★

★★★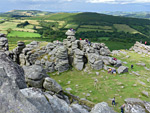 Haytor Rocks and Hound Tor
Spectacular granite outcrops, plus a ruined medieval village and several old quarries



Rating:

★★★★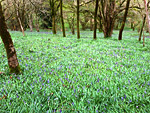 Lower East Lounston Nature Reserve
Small but pretty area of ancient woodland bordering a stream, near the east edge of Dartmoor



Rating:

★

★★★★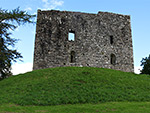 Lydford Castle
Square tower/keep from the 13th century, mostly used as a prison, close to earthworks from an earlier fortification



Rating:

★★

★★★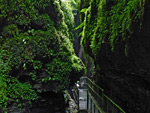 Lydford Gorge
Deep, wooded ravine along the River Lyd at the west edge of the national park, with several sections of dark narrows and a 90 foot waterfall



Rating:

★★★★★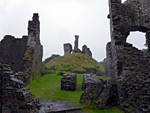 Okehampton Castle
Photogenic ruins on a partly wooded hill above the West Okement River; once the largest castle in the Devon



Rating:

★★★★

★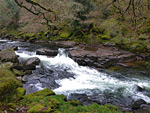 River Dart Gorge
Remote section of the River Dart between steep, wooded slopes on the east side of Dartmoor, with many pools, cascades, and some tributary waterfalls



Rating:

★★★★★
Map of Featured Locations