Photogenic Landscapes and Historic Sites in Devon
Devon
is renowned for its moorland and coastal scenery. The county contains all of
Dartmoor National Park
and about a quarter of
Exmoor National Park
, the remainder being in
Somerset
, which along with
Dorset
borders Devon to the east. Both parks are characterised by extensive, treeless uplands, dotted with weathered granite outcrops, and abundant deposits of peat. There are no dramatic peaks, and most of the moors have low relief, so the best views are generally of the large scale landscape, but the hills are often topped with photogenic eroded rock formations. Many trails cross the two national parks, and a few smaller moors elsewhere in the county.
All of the Devon coast is dramatic, and similar in appearance to the north and south; mostly cliff-bound but also forming many sandy beaches and coves. The rocks are sedimentary to the south, generally tilted at a moderate angle, but more distorted to the north, and partly metamorphosed. The eastern 30 miles of the southern shoreline, beyond Exmouth, is part of the
Jurassic Coast
that extends across most of
Dorset
, and contains large exposures of fossil-bearing strata spanning 185 million years of geological history. Long stretches of both coastlines are generally accessible only from above, along the coastal path, but may also be explored at sea level, perhaps only for a few hours around low tide. Some of these regions are amongst the most scenic and little-visited parts of the whole country.
Devon contains a few, relatively minor prehistoric sites, and no major ruined abbeys, but does have a good selection of castles, and a particularly beautiful
cathedral
.
Castles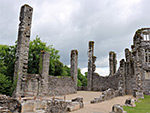 Berry Pomeroy Castle
Ruins of a 15th century castle containing a Tudor manor house; a substantial and evocative site, on a limestone outcrop in a wooded, rural setting



Rating:

★★★

★★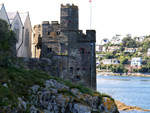 Dartmouth Castle
Small castle, built as an artillery fort at the end of the 14th century, with a spectacular location on a rocky outcrop at the entrance to Dartmouth Harbour



Rating:

★★★

★★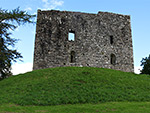 Lydford Castle
Square tower/keep from the 13th century, mostly used as a prison, close to earthworks from an earlier fortification



Rating:

★★

★★★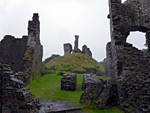 Okehampton Castle
Photogenic ruins on a partly wooded hill above the West Okement River; once the largest castle in the county



Rating:

★★★★

★

Powderham Castle - castellated mansion, begun at the start of the 15th century


Tiverton Castle - medieval castle that was later transformed into a country mansion, retaining many original features; a varied and interesting place to visit. Privately owned, with limited opening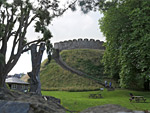 Totnes Castle
Small but well preserved Norman motte and bailey castle, centred on a circular keep



Rating:

★★

★★★
Coastline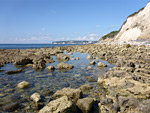 Axmouth to Lyme Regis
Cliffs, beaches and landslips along a remote, 7 mile section of the Jurassic Coast



Rating:

★★★★

★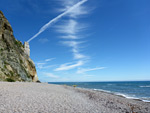 Beer Head
Sheer cliffs, sea caves and scenic beaches along the Jurassic Coast. Also many summer wildflowers



Rating:

★★★★★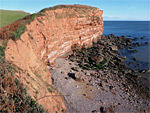 Budleigh Salterton to Ladram Bay
Red-rock coastline east of the River Otter; sheer cliffs above narrow, inaccessible beaches and marine terraces



Rating:

★★★★

★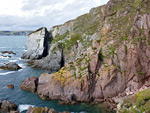 Burgh Island
Tidal, grass and wildflower-covered island opposite the wide sandy beach at Bigbury-on-Sea



Rating:

★★★

★★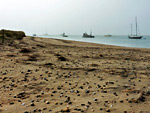 Dawlish Warren
Sandy promontory at the mouth of the River Exe containing varied habitats, home to many plant species



Rating:

★★★

★★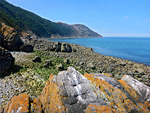 Glenthorne Beach to Foreland Point
Spectacular, three mile section of the north coast, with dense woodland sloping steeply down to remote beaches and eroded rock formations



Rating:

★★★★★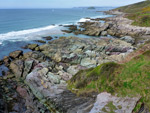 Noss Mayo to Stoke Down
Narrow inlets, tiny beaches and grassy promontories, and much colourful, jagged, eroded rock



Rating:

★★★★★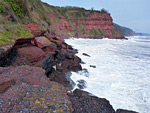 Shaldon to Watcombe
Three mile stretch of the east Devon coastline near Teignmouth, lined by high cliffs of red breccia



Rating:

★★★★

★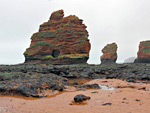 Sidmouth to Ladram Bay
Red sandstone cliffs, isolated beaches and large sea stacks; part of the Jurassic Coast



Rating:

★★★★★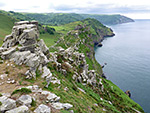 Valley of Rocks to Woody Bay
Rock formations, isolated beaches, steep cliffs and coastal woodland, west of Lynton



Rating:

★★★★★
Cathedrals
, and other major churches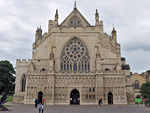 Exeter Cathedral
Large and very beautiful 12th century cathedral, featuring fine ceiling vaulting, ancient stained glass and a variety of carvings



Rating:

★★★★★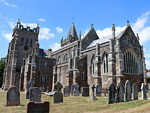 Ottery St Mary
Grand, cathedral-like church from the 14th century, featuring intricate vaulting, medieval tombs and an astronomical clock



Rating:

★★★★

★
Landscapes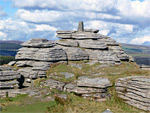 Bellever Tor
Large tor with much exposed, weathered granite, offering panoramic views; at the centre of Dartmoor National Park



Rating:

★★★

★★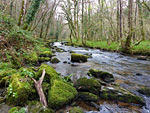 Blackadon Nature Reserve
Ancient woodland, riverbanks, moorland and a tor, at the edge of Dartmoor



Rating:

★★

★★★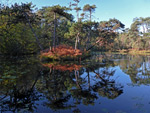 Bystock Pools
Varied nature reserve with a lake, several smaller pools, heath, scrub, grassland and woodland



Rating:

★★★

★★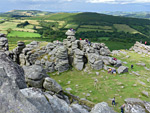 Haytor Rocks and Hound Tor
Granite outcrops in Dartmoor National Park, plus a ruined medieval village and several old quarries



Rating:

★★★★

★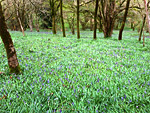 Lower East Lounston Nature Reserve
Small but pretty area of ancient woodland bordering a stream, near the east edge of Dartmoor



Rating:

★

★★★★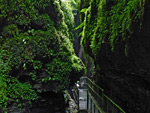 Lydford Gorge
Deep, wooded ravine along the River Lyd at the west edge of Dartmoor National Park, with several sections of dark narrows and a 90 foot waterfall



Rating:

★★★★★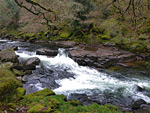 River Dart Gorge
Remote section of the River Dart between steep, wooded slopes on the east side of Dartmoor, with many pools, cascades, and some tributary waterfalls



Rating:

★★★★★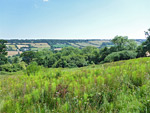 The Rough Nature Reserve
Steeply-sloping, sometimes boggy grassland, with a good variety of wildflowers



Rating:

★

★★★★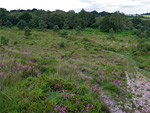 Venn Ottery Nature Reserve
Heath, rough grassland and a spring-fed raised bog, home to rare plant species



Rating:

★

★★★★
Ruined Abbeys


Canonsleigh Abbey - small monastic remains adjoining a farm, near Burlescombe, close to the border with Somerset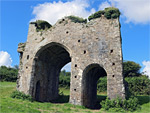 Cornworthy Priory
Ruined but mostly complete gatehouse from a minor 14th century nunnery, abandoned in 1536; in a field a few miles south of Totnes



Rating:

★

★★★★

Frithelstock Priory - picturesque ruins in a small village south of Bideford


Map of Featured Devon Locations