North Devon Coast Area of Outstanding Natural Beauty

Apart from two small areas at Westwood Ho! and Ilfracombe, all of the coast of north
Devon
is nationally protected, part of
Exmoor National Park
for the eastern 15 miles (to Combe Martin), continuing into Somerset, and as the
North Devon Coast Area of Outstanding Natural Beauty
for the remainder, adjoining the Hartland section of the Cornwall AONB. The Devon preserve varies in width from over four miles to less than one, and beside the actual coastline, a mix of cliffs, rocky coves, pebble banks, sandy beaches and dunes, it contains varied inland scenery of wooded combes, broad valleys, rolling farmland, coastal moorland and estuarine rivers, principally the Torridge and the Taw. The boundaries of the AONB are generally defined to include the catchment area of all the small streams that drain the coastal strip.
Rocks in the southern half of the AONB, south of the Taw, are nearly homogenous, thin-layered sandstones and mudstones from the Holsworthy Group, while to the north the strata are more varied, both in colour and form, but nearly all of coast is predominantly rocky, the main exceptions being the three broad beaches of Woolacombe Sands, Braunton Burrows (Saunton Sands) and Northam Burrows.
Unlike the sea cliffs further east, beyond Combe Martin, the land does not rise especially high, and the cliffs are less continuous, so although the coast path is mostly some distance above the water there are many places where it is possible to walk down to beach level. For wildflowers the single best location is Braunton Burrows, a UNESCO World Biosphere Reserve and one the largest dune fields in the country; over 400 vascular plant species are found here.
Landscapes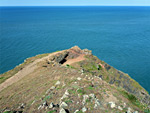 Baggy Point
Cliff-lined headland with some rocky terraces; interesting geology and varied wildflowers



Rating:

★★★

★★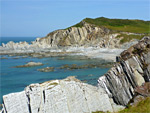 Mortehoe to Lee Bay
Slate cliffs, eroded formations and secluded beaches along the northwestern part of the coast



Rating:

★★★★★
Map of Featured Locations