Exmoor
is one of the smaller UK national parks, though is still quite extensive, with an area of 267 square miles, stretching across northwest
Somerset
(two thirds) and northeast
Devon
(one third), centred on Exmoor itself, an area of open moorland rising to a high point of 1,703 feet at
Dunkery Beacon
. The moor is named after the
River Exe
, which has its source towards the west side of the high country and flows southeast, meeting the sea at Exmouth.
Besides the moor, the park also contains the wooded valley of the
East Lyn River
,
Porlock Vale
(another river valley, containing several picturesque villages), and the
Brendon Hills
, a slightly lower range to the east, separated by the twisting valleys of the rivers Avill and Quarme. It also includes 34 miles of the predominantly cliff-lined Bristol Channel coastline, perhaps the most scenic area, given that much of the moorland is rather nondescript, lacking the extensive granite outcrops of Dartmoor. The bedrock is sedimentary - sandstone, limestone, shale and slate, seen most spectacularly in the coastal cliffs.
Only two main roads cross Exmoor National Park - the A39 across the northern reaches, close to though generally not beside the coast, and the A396 to the east, between the two main ranges of hills. Settlement is light, with just a few small towns within the park, also concentrated along the coast, including Lynton, Porlock and Combe Martin.
Moor and heath accounts for quarter of the land in the park, while around 7% is wooded, mostly managed by the Forestry Commission; a mix of conifer plantations and natural broadleaf woodland, of which the largest area is part of a National Nature Reserve (Dunkery and Horner Wood). Much of the remainder is rough pasture and farmland, used primarily for cattle and sheep grazing, the main exception being along the coast, where a combination of steep slopes and dense woodland makes much of the area rather inaccessible. All is followed by the southwest coastal path, though because of the hills this often runs up to half a mile inland, out-of-sight of the sea. The rocky beaches far below can in many places still be seen, however, by walking at sea level for a few hours around low tide, such as
Glenthorne Beach to Foreland Point
,
Minehead to Hurlstone Point
and
Porlock Weir to Glenthorne Beach
.
Coastline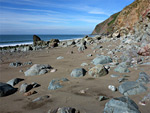 Foreland Point to Lynmouth
2.5 miles of north Devon coastline, from a high headland to the mouth of the River Lyn



Rating:

★★★★

★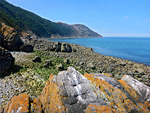 Glenthorne Beach to Foreland Point
Spectacular, three mile section of the north coast, with dense woodland sloping steeply down to remote beaches and eroded rock formations



Rating:

★★★★★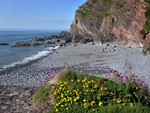 Heddon's Mouth
Cliff-lined pebble and sand beach at the lower end of the River Heddon, reached by an easy walk along a deep, secluded, wooded valley



Rating:

★★★

★★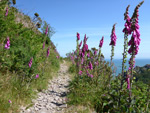 Heddon Valley to Sherrycombe
Four mile section of the north Devon coast, between two deep valleys, inaccessible at sea level but followed by the coast path up to 900 feet above



Rating:

★★★★

★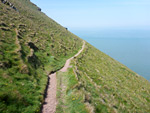 Minehead to Hurlstone Point
Cliffs and pebble beaches along a spectacular, little-visited, five mile section of the north Somerset coast



Rating:

★★★★★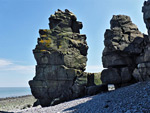 Porlock Weir to Glenthorne Beach
Five miles of the Somerset coast; rarely-seen beaches and eroded sandstone formations below steep cliffs and extensive ancient woodland



Rating:

★★★★★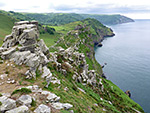 Valley of Rocks to Woody Bay
Rock formations, isolated beaches, steep cliffs and coastal woodland, west of Lynton. Includes Wringcliff Bay and Lee Bay



Rating:

★★★★★
Inland Places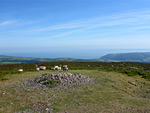 Dunkery Beacon
The highest point on Exmoor, surrounded by gentle slopes covered with heather and gorse, overlooking Porlock Bay and the Bristol Channel



Rating:

★★★

★★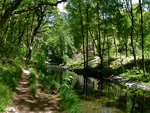 Watersmeet
Confluence of Hoar Oak Water and the East Lyn River, both flowing through deep, rocky gorges with pools and cascades



Rating:

★★★★

★
Map of Featured Locations