Numerous fortifications from the Saxon era and earlier are still evident across the UK, all now just earthworks, since the original timber structures within have long since disappeared. Stone castles date from after the 1066 Norman invasion, when over one thousand were built, to consolidate the newly acquired English territory and provide the basis from which to extend the kingdom into Wales. Most were still begun as wooden defences but soon strengthened, and often an earlier Saxon fort would be incorporated into the new structure. Most early castles had a simple design, with a circular ditch and embankment, the motte, enclosing a raised central area, the bailey, in which the wooden buildings were constructed. Typically the first masonry component to be added would be a central keep or tower, followed by stone walls around the bailey, commonly with towers or turrets at intervals. Subsequent developments involved additional stone buildings and often an outer defensive wall beyond the original, creating a larger fortified area, the outer bailey.
The main period of castle building lasted about 300 years. Castles were situated in most large towns and beside strategically important locations like river crossings and intersections of travel routes through valleys. Defensive needs declined from the 14th century onwards, when many castles were gradually abandoned, eventually left to become ruinous, or dismantled in order to reuse the stones in other projects, while others were modified for solely residential use. Another major phase of destruction occurred during and after the Civil War of 1642-1651; many were greatly damaged during the fighting while others were slighted (deliberately destroyed) by order of Parliament, to prevent any future use in conflicts.
Today, a very small number of medieval castles are still intact, essentially unmodified and inhabited as private residences;
Berkeley Castle
is one notable example. A few more are also mostly complete, with some furnished rooms, and preserved as museums, such as those at
Caerphilly
,
Caldicot
and
Portchester
. The remainder exist in stages of ruin, from the barest remains for example
Dinas
and
Morlais
, to extensive, spectacular structures of which perhaps the best, in the southwest, are
Chepstow Castle
,
Coity Castle
,
Corfe Castle
,
Grosmont Castle
,
Montgomery Castle
and
White Castle
. Although ruined castles are still numerous, there were many more, generally smaller, for which no trace remains.
As well as the true castles, built for military use, there were quite a few buildings named castles that were instead designed as fortified residences - mansions, or manors - with defensive elements more for show than for practical purposes; they are generally a little younger in age than the actual castles, typically from the 13th to 15th centuries, though they are often equal in terms of photogenic appearance and impressive architecture. Notable examples include
Old Beaupre Castle
,
Old Wardour Castle
,
Raglan Castle
and
Sherborne Old Castle
Many medieval castles with significant remains are preserved as visitor attractions, some privately owned but most in the care of the two national bodies, English Heritage and Cadw (Wales). The National Trust owns a selection of the fortified residences, generally complete and often still occupied. Just a few medieval castles are not obviously managed, sometimes remote and overgrown, for example
East Orchard Castle
in Vale of Glamorgan.
England
Berkshire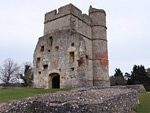 Donnington Castle
Tall, twin-towered gatehouse and low curtain walls from a 13th century fortified manor house, mostly destroyed during the Civil War



Rating:

★★

★★★
Devon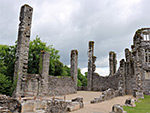 Berry Pomeroy Castle
Ruins of a 15th century castle containing a Tudor manor house; a substantial and evocative site, on a limestone outcrop in a wooded, rural setting



Rating:

★★★

★★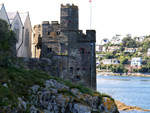 Dartmouth Castle
Small castle, built as an artillery fort at the end of the 14th century, with a spectacular location on a rocky outcrop at the entrance to Dartmouth Harbour



Rating:

★★★

★★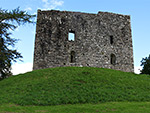 Lydford Castle
Square tower/keep from the 13th century, mostly used as a prison, close to earthworks from an earlier fortification



Rating:

★★

★★★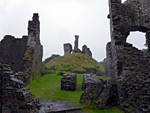 Okehampton Castle
Photogenic ruins on a partly wooded hill above the West Okement River; once the largest castle in the county



Rating:

★★★★

★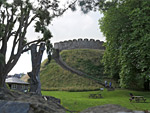 Totnes Castle
Small but well preserved Norman motte and bailey castle, centred on a circular keep



Rating:

★★

★★★
Dorset
Christchurch Castle
Small ruins of a Norman keep, adjacent to a well-preserved riverside house from the same period



Rating:

★★

★★★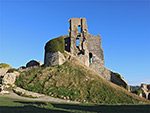 Corfe Castle
Large, ruined castle with a spectacular location on top of a steep-sided hill; construction started in the 11th century



Rating:

★★★★★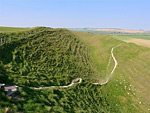 Maiden Castle
The largest hillfort in the country - half a mile across, enclosed by ramparts and ditches, on a chalk ridge south of Dorchester



Rating:

★★

★★★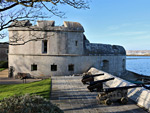 Portland Castle
Well preserved coastal fort built by Henry VIII, overlooking Portland Harbour; gun block, residential building and gardens



Rating:

★★★

★★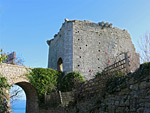 Rufus Castle
Minor ruins on a cliff edge, overlooking the coast, on the east side of the Isle of Portland



Rating:

★★

★★★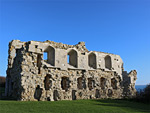 Sandsfoot Castle
Ruins of a small shoreline fort beside Portland Harbour, built in 1542 by Henry VIII; also known as Weymouth Castle



Rating:

★★★

★★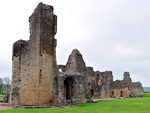 Sherborne Old Castle
Atmospheric ruins of a large, 12th century fortification surrounded by lawns and woodland, beside a late 16th century castellated mansion



Rating:

★★★★

★
Gloucestershire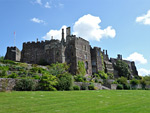 Berkeley Castle
The third oldest continuously occupied castle in England, after Windsor Castle and the Tower of London; home of the Berkeley family since the early 12th century



Rating:

★★★★

★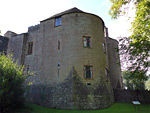 St Briavels Castle
Constructed in the 12th century, near the Forest of Dean. Some buildings are intact, and used as a youth hostel, while the public can visit the ruined areas



Rating:

★★

★★★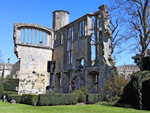 Sudeley Castle
Privately-owned fortified mansion built in the 1440s, with extensive gardens and some ruined components; open to visitors



Rating:

★★★

★★
Hampshire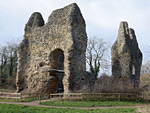 Odiham Castle
Minor but photogenic castle ruins in a rural, riverside location; built by King John early in the 13th century



Rating:

★★

★★★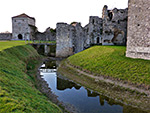 Portchester Castle
Historic castle right on the coast of Portsmouth Harbour, enclosed by the full-height walls of a 3rd century Roman fort



Rating:

★★★★

★
Herefordshire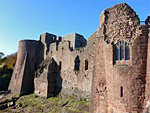 Goodrich Castle
Secluded, well preserved Norman castle with a rural location overlooking the River Wye, built on a block of reddish sandstone



Rating:

★★★★

★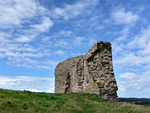 Kilpeck Castle
Minor but picturesque Norman ruin on a large motte ringed by a grassy moat, with grand views of the Welsh Marches



Rating:

★

★★★★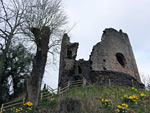 Longtown Castle
Circular keep above substantial bailey walls, on a hill near the River Monnow, facing the east side of the Black Mountains



Rating:

★★

★★★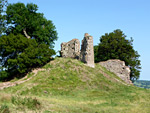 Snodhill Castle
Fragmentary ruins of an early Norman stone castle, recently cleared of undergrowth and stablised



Rating:

★★

★★★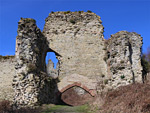 Wigmore Castle
Overgrown but extensive and atmospheric ruins of a 13th century castle, on several levels



Rating:

★★★★

★
Oxfordshire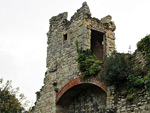 Wallingford Castle
Fragmentary remains of a major medieval fortification, beside a ford across the River Thames; almost completely destroyed after the Civil War



Rating:

★★

★★★
Somerset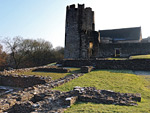 Farleigh Hungerford Castle
Ruins of a quadrangular castle with outer court, plus a chapel containing tombs and wall paintings, and a crypt holding eight lead coffins



Rating:

★★★

★★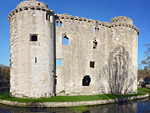 Nunney Castle
Small but well-built and picturesque 14th century castle, surrounded by a moat and overlooking a stream, in the centre of a quiet country village



Rating:

★★★

★★
Wiltshire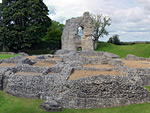 Ludgershall Castle
Tower remains and low wall remnants from a small, 12th century castle frequented by Henry III



Rating:

★★

★★★
Old Sarum
Remains of an Iron Age fort, a Norman castle and an abbey; the original settlement of Salisbury



Rating:

★★★

★★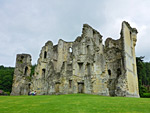 Old Wardour Castle
Spectacular and substantial ruins of a fortified house, with an unusual, French-style, hexagonal layout; built at the end of the 14th century



Rating:

★★★★

★;
Wales
Bridgend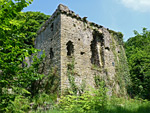 Candleston Castle
Ivy-clad remains of a 14th century fortified mansion, on a wooded promontory close to the coast and the dunes of Merthyr Mawr



Rating:

★★

★★★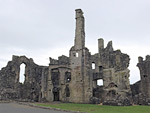 Coity Castle
Substantial ruins of a Norman castle, with later additions; an inner bailey enclosed by tall walls, adjoining a larger outer bailey



Rating:

★★★★

★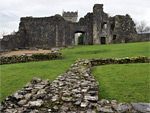 Newcastle Castle
Tall tower next to a fine arched entrance, and a lengthy section of curtain wall incorporating the base of a second tower - remains of a major Norman castle in the centre of Bridgend



Rating:

★★★

★★
Caerphilly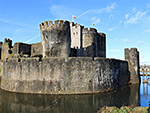 Caerphilly Castle
The largest Welsh castle; three concentric fortifications, surrounded by lakes and moats, centred on the inner ward with its great hall



Rating:

★★★★★
Carmarthenshire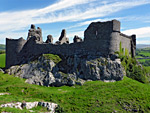 Carreg Cennen Castle
Substantial, imposing medieval castle on an isolated, cliff-lined limestone hill near the west edge of the national park



Rating:

★★★★★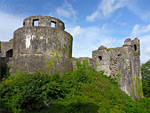 Dinefwr Castle
Ruined medieval castle, largely complete, with a commanding position on top of a wooded ridge over looking the valley of the River Towy



Rating:

★★★★

★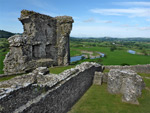 Dryslwyn Castle
13th century castle of intricate design including three wards, atop an isolated limestone hill beside the River Towy



Rating:

★★★

★★
Merthyr Tydfil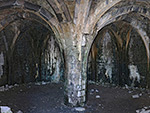 Morlais Castle
13th century castle on an isolated limestone hill; mostly just earthworks and overgrown stones, plus a deep cistern and a vaulted basement



Rating:

★

★★★★
Monmouthshire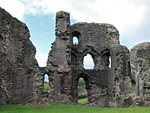 Abergavenny Castle
Town centre ruin with a long and varied history; surviving components include two towers, a gatehouse and part of the curtain walls



Rating:

★★

★★★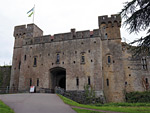 Caldicot Castle
Large Norman fortification, once a ruin but mostly restored in the 19th century, in a parkland setting surrounded by lawns and woods



Rating:

★★★★

★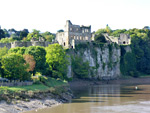 Chepstow Castle
Large, well preserved and historically important Norman castle with a beautiful location overlooking the River Wye



Rating:

★★★★★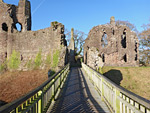 Grosmont Castle
Compact, peaceful and picturesque castle near the River Monnow, surrounded by a dry moat



Rating:

★★★★

★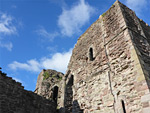 Monmouth Castle
Small castle in the city centre, birthplace of Henry V; now consists only of a great hall and a great tower



Rating:

★

★★★★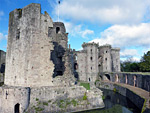 Raglan Castle
Spectacular, late medieval castle in the Wye Valley, complete with water-filled moat. Largely abandoned since the Civil War



Rating:

★★★★★
Skenfrith Castle
Remains of a small 13th century castle, in rural surroundings overlooking the River Monnow: a circular keep, five towers and a curtain wall



Rating:

★★★

★★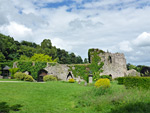 Usk Castle
Ruins of a relatively small, privately-owned castle with pretty, wooded surroundings. The oldest sections are from the 12th century



Rating:

★★

★★★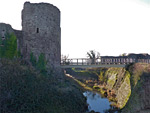 White Castle
Norman castle with a large, walled outer court and a moated inner court, in a remote, rural setting



Rating:

★★★★

★
Neath Port Talbot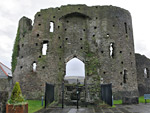 Neath Castle
Twin-towered gatehouse, curtain walls and inner foundations, from a 13th century Norman castle



Rating:

★★

★★★
Powys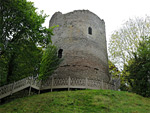 Bronllys Castle
Circular, three-storey keep-tower on top of a mound, the only remnant of a 12th century castle



Rating:

★★

★★★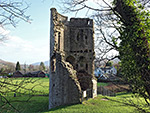 Crickhowell Castle
A wooded motte and three tall tower fragments are the surviving sections of a 13th century castle in the centre of Crickhowell, beside the River Usk



Rating:

★★

★★★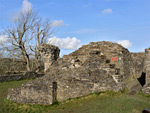 Dolforwyn Castle
Excavated castle remains on top of a steep-sided hill, surrounded by woodland; near Newtown in the north of the county



Rating:

★★

★★★
Hay Castle
Relatively large but poor condition ruins of a Norman castle in the centre of Hay-on-Wye, soon to be restored



Rating:

★★

★★★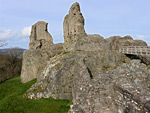 Montgomery Castle
Extensive, photogenic, hilltop ruins, overlooking the town of Montgomery, close to the border with Shropshire



Rating:

★★★★

★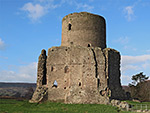 Tretower Castle and Court
Ruined castle beside a complete, unrestored, 14th century manor house; within Brecon Beacons National Park



Rating:

★★★

★★
Rhondda Cynon Taf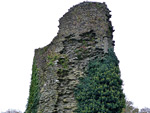 Llantrisant Castle
Minor ruins of an ancient castle; a tall tower and a short wall section, all quite overgrown



Rating:

★

★★★★
Swansea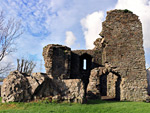 Loughor Castle
Minor but interesting and photogenic castle remains near the coast; a tower and earthwork, on the site of a Roman fort



Rating:

★★

★★★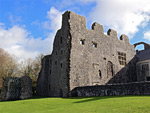 Oxwich Castle
Impressive ruins of a Tudor mansion, on the foundations of a medieval castle



Rating:

★★★★

★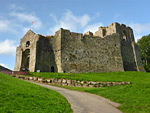 Oystermouth Castle
Well preserved 12th century castle on a ridge above Mumbles Head, overlooking Swansea Bay



Rating:

★★★

★★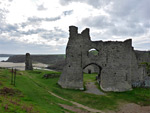 Pennard Castle
isolated remains of a 12th century fortification on the bluffs above Three Cliffs Bay, on the Gower Peninsula



Rating:

★★★

★★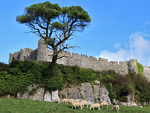 Penrice Castle
Large but privately-owned remains of a 13th century castle, inland from Oxwich Bay; viewable only from a distance



Rating:

★

★★★★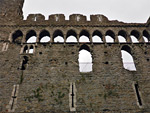 Swansea Castle
City centre ruins of a mostly demolished 13th century castle, surrounded on all sides by modern buildings



Rating:

★★

★★★
Weobley Castle
Substantial remains of a 14th century fortified mansion on the Gower Peninsula, overlooking the coast



Rating:

★★★★

★
Vale of Glamorgan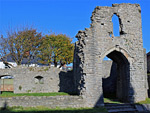 Barry Castle
Limited remains of a fortified mansion in a residential suburb of Barry; a hall and a two story gatehouse



Rating:

★

★★★★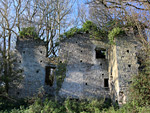 East Orchard Castle
Overgrown remains of a sizeable mansion from the 14th century, including a barn, chapel, dovecote and hall



Rating:

★★

★★★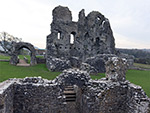 Ogmore Castle
Small but pretty castle remains in a peaceful, rural location beside the River Ewenny



Rating:

★★★

★★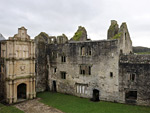 Old Beaupre Castle
Ruins of a large medieval mansion near the River Thaw; nearly complete, with fine carving and masonry



Rating:

★★★

★★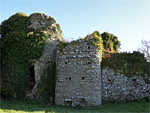 Penmark Castle
Partial, overgrown ruins of a 13th century castle, including walls and a two-storey tower, overlooking the River Waycock



Rating:

★

★★★★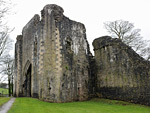 St Quintin's Castle
Substantial, twin-towered gatehouse, curtain wall remnants and tower foundations, mostly built in the early 14th century. Also known as Llanblethian Castle



Rating:

★★

★★★