Mendip Hills Area of Outstanding Natural Beauty

The
Mendip Hills
of north
Somerset
are the southernmost range of limestone uplands in the UK, extending west-east for nearly 30 miles between Weston-super-Mare and Frome. The western edge narrows to a prominent ridge (
Bleadon Hill
) while to the east the hills widen, with north and south edges up to five miles apart, to the vicinity of Wells and Chewton Mendip, beyond which the land is generally lower, and the edge of the hills less well-defined. The more spectacular western section is contained within the 77 square mile
Mendip Hills Area of Outstanding National Beauty
, the boundaries of which generally coincide with the lower edge of the hills, but extend northwards a little to include two reservoirs,
Blagdon Lake
and
Chew Valley Lake
.
Within the AONB the south edge of the Mendips is most prominent - a nearly straight escarpment up to 600 feet in elevation, overlooking the Somerset Levels, while the northern edge is more undulating, split by valleys, but is similarly bordered by flat, low-lying land, from Puxton Moor and Congresbury Moor, across to the Chew Valley. The highest point of the hills is
Black Down
, 1,066 feet, and this is surrounded by a sizeable patch of open moorland, one of only two such regions, the other being around
Cook Peak
in the west. Instead, the majority of the hills is walled farmland, used for livestock grazing and growing crops, though there are many smaller areas in a natural state, including over a dozen nature reserves, the best of which are
Cheddar Complex
,
Dolebury Warren
,
Draycott Sleights
and
Ubley Warren
.
Calcareous grassland is the main plant habitat in the Mendips, along with ancient broad-leaved woodland (ash and maple), which covers much of the north and south slopes. The hills are cut by ravines and combes, of which
Cheddar Gorge
and
Ebbor Gorge
are the most famous, and the carboniferous limestone bedrock contains innumerable caves, one of which (Wookey Hole) is a developed tourist attraction. Across the plateau are dozens of ancient monuments, including ditches, burial mounds and standing stones. The hills are crossed by many roads, tracks and paths, including two long-distance trails, the
West Mendip Way
from Uphill to Wells, and the
East Mendip Way
from Wells to Frome, outside the AONB.
Landscapes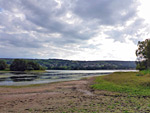 Blagdon Lake
440 acre reservoir at the foot of the Mendip Hills, formed by a dam across the River Yeo



Rating:

★

★★★★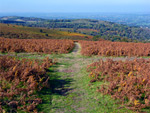 Black Down and Burrington Combe
The highest summit of the Mendip Hills, at the centre of a sizable area of moorland, and a narrow, winding, cliff-lined valley concealing several caves



Rating:

★★★

★★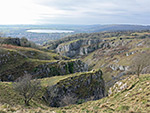 Cheddar Gorge
Famous limestone ravine at the south edge of the Mendip Hills, containing several caves, and viewable via a 3 mile loop path



Rating:

★★★★

★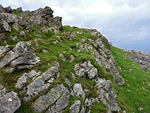 Crook Peak
Rocky summit with excellent views; the most distinctive peak in the Mendip Hills



Rating:

★★

★★★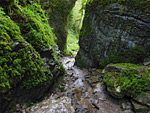 Ebbor Gorge
Narrow, densely wooded limestone ravine near Wookey Hole along the south edge of the Mendip Hills



Rating:

★★★

★★
Nature Reserves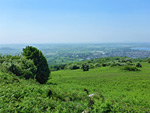 Bubwith Acres
Small nature reserve on the southern slopes of the Mendip Hills; mostly grassland, with some trees, bracken and limestone exposures



Rating:

★

★★★★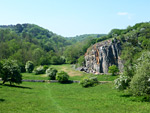 Cheddar Complex
Three adjacent, contrasting nature reserves across the upper reaches of Cheddar Gorge; Black Rock, Long Wood and Velvet Bottom



Rating:

★★★

★★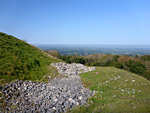 Dolebury Warren
Varied plant habitals on a northern outlier of the Mendip Hills, including extensive calcareous grassland, plus an ancient hillfort



Rating:

★★

★★★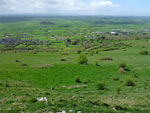 Draycott Sleights
Nature reserve at the southern edge of the Mendip Hills; good views and over 150 wildflower species



Rating:

★★

★★★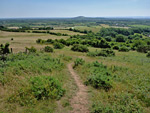 Hellenge Hill
Calcareous grassland nature reserve on a western outlier of the Mendip Hills; varied wildflowers and long distance views



Rating:

★

★★★★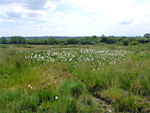 Lots Grassland
Pasture, hay meadows and boggy heath, on high ground in the middle of the Mendips



Rating:

★

★★★★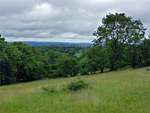 Tor Hole Fields
Small, little-visited nature reserve of sloping grassland and a few trees, in the Mendip Hills



Rating:

★

★★★★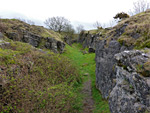 Ubley Warren
Small nature reserve within the Mendip Hills, containing overgrown lead mine workings, now home to a variety of wildlife



Rating:

★

★★★★
Map of Featured Locations