Photogenic Landscapes and Historic Sites in Monmouthshire
Monmouthshire
is one of the 13 ancient counties of Wales, and currently comprises about two thirds of its original size, after the 1974 transfer of the western section to five new, much smaller boroughs. The modern boundary of the county, or unitary authority, extends from Caldicot along a short section of the Bristol Channel, then follows the River Wye northwards, at one point incorporating a small area on the east side of the river, before moving northwest, past Monmouth to and a little beyond Llanthony in the Black Mountains, this the northernmost point. The western boundary of the country runs generally a short distance beyond the River Usk, coming close to Newport before veering southeast towards Caldicot and Chepstow.
Most of the land is rural, a mix of agricultural fields, small hills and winding valleys, with the most scenic areas being the
Wye Valley
in the east and the mountains of the far west. Monmouthshire contains a small section of the east side of
Brecon Beacons National Park
(most of which is in neighbouring
Powys
), including most of the Vale of Ewyas, and the isolated peak of
Skirrd Fawr
. Adjacent English counties are
Gloucestershire
to the east and
Herefordshire
to the north.
The landscapes are pretty, but Monmouthshire is perhaps best known for historic buildings, in particular its castles. Of the original 20 or so, nine are largely complete; four are found in city centres while the reminder have picturesque, rural settings. The relative abundance of castles is a consequence of the strategically important location, close to the historic boundary between Wales and England, which used to be a little further west of the current border; most of the forts were built by the English. The best castles are
Chepstow
,
Raglan
and
White
. Other noted antiquities include
Caerwent Roman Town
, which features extensive city walls up to 20 feet high, dating from the third century, and the beautiful monastic remains of
Tintern Abbey
and
Llanthony Priory
.
Castles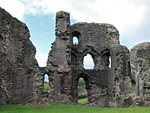 Abergavenny Castle
Town centre ruin with a long and varied history; surviving components include two towers, a gatehouse and part of the curtain walls



Rating:

★★

★★★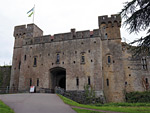 Caldicot Castle
Large Norman fortification, once a ruin but mostly restored in the 19th century, in a parkland setting surrounded by lawns and woods



Rating:

★★★★

★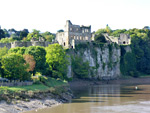 Chepstow Castle
Large, well preserved and historically important Norman castle with a beautiful location overlooking the River Wye



Rating:

★★★★★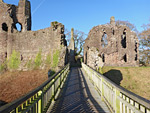 Grosmont Castle
Compact, peaceful and picturesque castle near the River Monnow, surrounded by a dry moat



Rating:

★★★★

★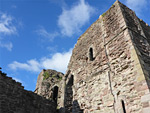 Monmouth Castle
Small castle in the city centre, birthplace of Henry V; now consists only of a great hall and a great tower



Rating:

★

★★★★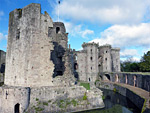 Raglan Castle
Spectacular, late medieval castle in the Wye Valley, complete with water-filled moat. Largely abandoned since the Civil War



Rating:

★★★★★
Skenfrith Castle
Remains of a small 13th century castle, in rural surroundings overlooking the River Monnow: a circular keep, five towers and a curtain wall



Rating:

★★★

★★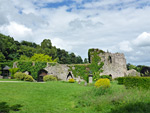 Usk Castle
Ruins of a relatively small, privately-owned castle with pretty, wooded surroundings. The oldest sections are from the 12th century



Rating:

★★

★★★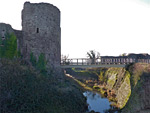 White Castle
Norman castle with a large, walled outer court and a moated inner court, in a remote, rural setting



Rating:

★★★★

★
Churches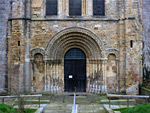 Priory Church of St Mary, Chepstow
Town centre parish church, mostly from the 18th and 19th centuries, but incorprating parts of a 12th century priory



Rating:

★★

★★★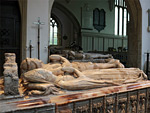 St Mary's Priory, Abergavenny
Parish church originally built for a Benedictine priory, though greatly modified in Victorian times. Contains a number of elaborate medieval tombs



Rating:

★★

★★★
Landscapes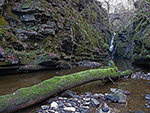 Clydach Gorge
Wooded valley containing a powerful river that forms several waterfalls and enclosed sections; also caves, old railway lines and industrial sites



Rating:

★★★★

★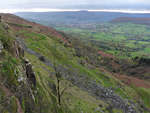 Skirrid Fawr
Eastern outlier of the Brecon Beacons, circled by a 3.5 mile loop trail; overlooks a large area of south Wales



Rating:

★★★

★★
Nature Reserves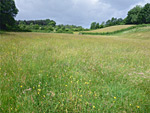 Brockwells Meadows
Four farm fields containing a good range of calcareous grassland plants, plus a few notable insect species; in a shallow valley near Caldicot



Rating:

★

★★★★
Margaret's Wood
Steeply-sloping ancient woodland in the Whitebrook valley, west of the River Wye, including wild daffodils and two ruined buildings



Rating:

★★

★★★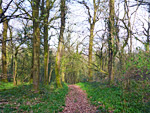 Priory Wood
Ancient, mixed woodland on a steep slope above the River Usk, crossed by a 0.4 mile loop path



Rating:

★

★★★★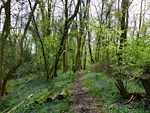 Prisk Wood
Ancient, atmospheric woodland on the steep slopes of the Wye Valley, crossed by small streams



Rating:

★★

★★★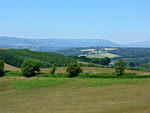 Springdale Farm
Working farm with meadows, pasture, streams, boggy areas and ancient deciduous woodland



Rating:

★

★★★★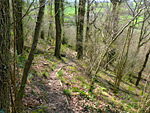 Strawberry Cottage Wood
Ancient oak woodland on a southwest-facing slope at the mouth of the Afon Honddu valley



Rating:

★

★★★★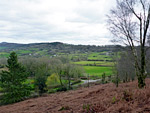 The Wern
Northeast-facing hillside with rough grassland, heath, scattered trees, millstone outcrops, and good views towards Monmouth



Rating:

★

★★★★
Roman Sites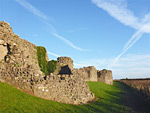 Caerwent Roman Town
Relics from the Roman settlement of Venta Silurum, including a temple, forum, basilica, houses, and city walls up to 17 feet high



Rating:

★★★

★★
Ruined Abbeys
, and other religious buildings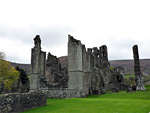 Llanthony Priory
Ruined Augustinian priory in a remote location within the Black Mountains; dark, aged masonry and soaring Gothic arches



Rating:

★★★★★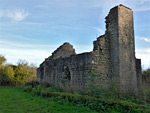 Runston Chapel
Roofless ruin of a small Norman chapel, in a rural location southwest of Chepstow



Rating:

★

★★★★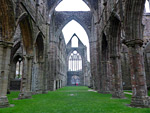 Tintern Abbey
Substantial, beautiful ruined abbey on the floor of the Wye Valley, beneath steep, forested slopes; established in the 12th century



Rating:

★★★★★
Map of Featured Monmouthshire Locations