Photogenic Landscapes and Historic Sites in Powys
At around 2,000 square miles,
Powys
is by some distance the largest county in Wales, extending almost 80 miles, from the edge of Snowdonia National Park in the north to the slightly less rugged mountains of Brecon Beacons National Park in the south. Away from these two parks, most of the land is still hilly, crossed by winding valleys, with relatively few main roads, and no large cities. Most of the eastern border is also the boundary of Wales, facing the English counties of Shropshire and Herefordshire; Powys also adjoins 11 other Welsh counties.
There are two main extended scenic areas in Powys; one is the
Cambrian Mountains
in the west, a rather barren and relatively little-visited series of undulating grassy hills, harbouring streams and lakes, including the large reservoir of Lake Vyrnwy in the north, while the second, and most well known is the
Brecon Beacons
and neighbouring ranges. About three quarters of
Brecon Beacons National Park
is within the county, with most of the remainder being in Carmarthenshire (west), Merthyr Tydfil (south) and
Monmouthshire
(east).
The Beacons are the central range in the national park, containing the highest peak in south UK, 2,907 foot Pen y Fan; these hills are bordered by the high plateau of Forest Fawr and the remote Black Mountains to the west, and the slightly lower ridges of Black Mountain on the other side. The park contains the largest area of wild lands in Britain south of Snowdonia, and is crossed by dozens of trails, which climb peaks and follow the valleys, many of which contain streams that form impressive waterfalls.
Historic sites in Powys are not so common, and are scattered all across the country, not concentrated in any particular area. Castles are the most numerous feature, and there are also quite a few ancient stones, including several stone circles.
Castles


Brecon Castle - sizeable remains of an 11th century castle, partly converted to a hotel but retaining much of the original structure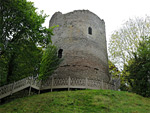 Bronllys Castle
Circular, three-storey keep-tower on top of a mound, the only remnant of a 12th century castle



Rating:

★★

★★★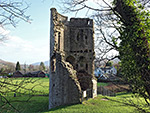 Crickhowell Castle
A wooded motte and three tall tower fragments are the surviving sections of a 13th century castle in the centre of Crickhowell, beside the River Usk



Rating:

★★

★★★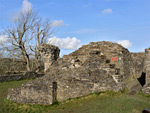 Dolforwyn Castle
Excavated castle remains on top of a steep-sided hill, surrounded by woodland; near Newtown in the north of the county



Rating:

★★

★★★
Hay Castle
Relatively large but poor condition ruins of a Norman castle in the centre of Hay-on-Wye, soon to be restored



Rating:

★★

★★★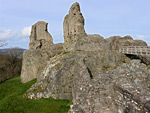 Montgomery Castle
Extensive, photogenic, hilltop ruins, overlooking the town of Montgomery, close to the border with Shropshire



Rating:

★★★★

★
Powis Castle - a spectacular fortified medieval mansion, occupied continuously since its construction in the 14th century. Managed by the National Trust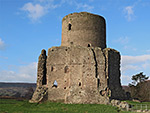 Tretower Castle and Court
Ruined castle beside a complete, unrestored, 14th century manor house; within Brecon Beacons National Park



Rating:

★★★

★★
Cathedrals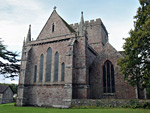 Brecon Cathedral
Gothic cathedral occupying the church of a former priory, with some sections from the 12th century



Rating:

★★★★

★
Landscapes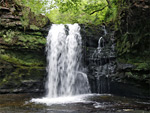 Afon Nedd Fechan
Major river flowing through a deep, wooded valley, over three large waterfalls and several lesser cascades; explored by the Elidir Trail



Rating:

★★★★

★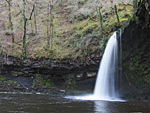 Afon Pyrddin
Cascades and two major waterfalls along a tributary of the Afon Nedd Fechan, flowing partly through a deep, wooded gorge



Rating:

★★★★

★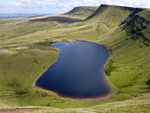 Black Mountain Fans
Summits along a dramatic ridge above two isolated lakes, on the west side of Brecon Beacons National Park



Rating:

★★★★★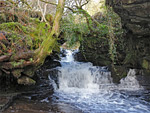 Caerfanell Waterfalls
Up to 20 waterfalls in wooded gorges along the upper section of the Caerfanell River, and its tributary Nant Bwrefwr



Rating:

★★★★

★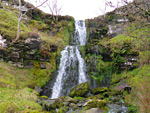 Cwm Llwch
Valley on the north side of the Brecon Beacons, containing waterfalls and a secluded glacial lake



Rating:

★★★

★★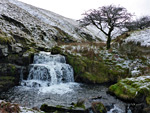 Cwm Serre and Cribyn
Steep-sided valley with many small waterfalls, and a high summit



Rating:

★★★

★★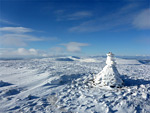 Fan Fawr and Beacons Reservoir
2,408 foot summit in the Fforest Fawr region of Brecon Beacons National Park, above a scenic reservoir lined by trees; explored by a 4 mile loop hike



Rating:

★★★★

★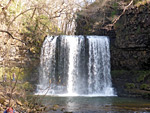 Four Waterfalls Walk
Four varied falls along the Mellte and Hepste rivers near Ystradfellte in the Brecon Beacons, set in deep, wooded valleys



Rating:

★★★★★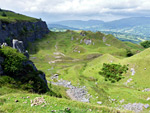 Llangattock Escarpment
Limestone cliffs below the rim of a grassy, boggy plateau with a wind-swept lake; site of several cave entrances, and 18th century quarries



Rating:

★★★★

★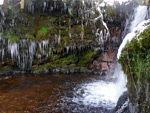 Nant Ddu
Short, pathless valley in Brecon Beacons National Park, containing several pretty waterfalls



Rating:

★★

★★★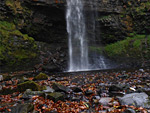 Nant Llech and Henrhyd Falls
River flowing over the highest waterfall in south Wales, then through a deep valley containing several other cascades



Rating:

★★★★

★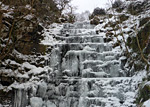 Nant Pyrgad and Pistyll Crawnon
Waterfalls at the head of the Dyffryn Crawnon valley, southwest of Llangynidr, including the tributary of Nant Pyrgad



Rating:

★★

★★★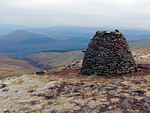 Nant Tarthwyni and Waen Rydd
Wooded valley containing a small stream with pools and cascades, leading to a flat-topped peak



Rating:

★★★

★★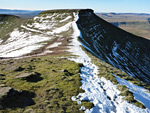 Pen y Fan and Fan y Big Horseshoe Walk
Loop hike to four summits in the Brecon Beacons, including the two highest points (Corn Du and Pen y Fan)



Rating:

★★★★★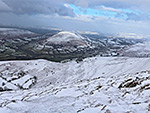 Table Mountain, Pen Cerrig-calch and Pen Allt-mawr
Summits in the Black Mountains, Brecon Beacons National Park, reached by a 9 mile loop hike



Rating:

★★★★

★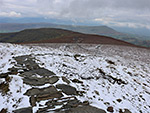 Waun Fach, Grwyne Fawr and Nant Bwch
Loop hike along ridges and valleys to several peaks in the Black Mountains, Brecon Beacons National Park



Rating:

★★★★

★
Ruined Abbeys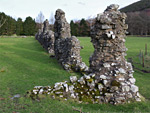 Cwmhir Abbey
Low walls from a once great monastic church, in peaceful countryside a few miles north of Llandrindod Wells



Rating:

★★

★★★



Map of Featured Powys Locations