Ruined Abbeys of Southwest UK
Hundreds of Catholic monasteries were founded in the UK during Saxon, Norman and medieval times, typically being enlarged in several stages, and generally based around a large, cruciform church adjoining square cloisters lined with subsidiary buildings such as a chapter house, dormitory, hospital and living quarters. All were abruptly closed in 1539 as part of Henry VIII's Dissolution of the Monasteries, and while the majority were either entirely demolished or incorporated into other buildings, some survive in a ruinous state, and these structures are rivalled only by castles for spectacular architecture and atmospheric settings, and the great age of the remains.
In the UK there are three main types, or orders, of monasteries, depending on the precise rules followed by the monks or nuns; Augustinian, Benedictine and Cistercian. Most monasteries were abbeys, presided over by an abbot, while some of slightly lower status were priories managed by priors, or friaries, managed by friars. Many counties had several dozen such institutions but typically only one or two are visible today in a ruined state. In southwest UK the principal sites are
Glastonbury Abbey
,
Hailes Abbey
,
Llanthony Priory
,
Margam Abbey
,
Neath Abbey
,
Netley Abbey
and
Tintern Abbey
.
Some of the most notable surviving abbeys and priories, reconsecrated as parish churches, are at
Bath
,
Christchurch
,
Great Malvern
,
Pershore
,
Sherborne
and
Tewkesbury
.
Other religious ruins are scattered across the counties, including several fortified, castle-like residences once used by cathedral bishops, for example at Cardiff and
Wells
, and, more numerous, abandoned churches, some intact and preserved, others incomplete, such as
Chisbury Chapel
,
Edvin Loach Old Church
,
Runston Chapel
and
St James Church
.
Carmarthenshire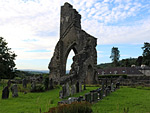 Talley Abbey
Ruined church from a medieval monastery, of the Premonstratensian order, set in scenic, hilly land 7 miles north of Llandeilo



Rating:

★★★★

★
Ceredigion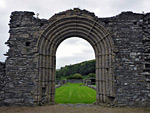 Strata Florida Abbey
Picturesque ruins of a major medieval monastery, in a quiet, rural setting, including a fine, ornate doorway



Rating:

★★★

★★
Devon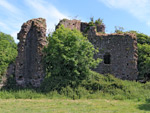 Canonsleigh Abbey
Small monastic remains adjoining a farm, near Burlescombe, close to the border with Somerset



Rating:

★

★★★★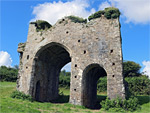 Cornworthy Priory
Ruined but mostly complete gatehouse from a minor 14th century nunnery, abandoned in 1536; in a field a few miles south of Totnes



Rating:

★

★★★★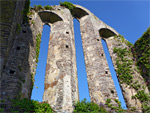 Frithelstock Priory
Picturesque ruins of the church from a 13th century Augustinian priory, in a small village south of Bideford



Rating:

★★★

★★
Dorset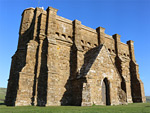 Abbotsbury Abbey
Relics from a once large monastery near the coast; a wall fragment, a tithe barn, church foundations and the detached St Catherine's Chapel



Rating:

★★

★★★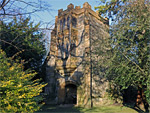 Cerne Abbey
Limited remains of a Benedictine monastery; a porch (once the entrance to a great hall), a guest house and a tithe barn



Rating:

★★

★★★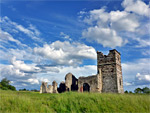 Knowlton Church and Earthworks
Isolated, ruined, partly Norman church within the circular, grassy embankment from a Neolithic henge



Rating:

★★★

★★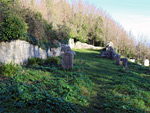 St Andrew's Church
Overgrown ruins of a 15th century church, on the Isle of Portland, in use until the 1750 when it was abandoned because of nearby landslips



Rating:

★

★★★★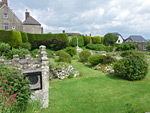 Shaftesbury Abbey
Relics from an ancient abbey (founded 888), mostly low foundations, now incorporated into a garden, accompanied by a museum



Rating:

★

★★★★
Gloucestershire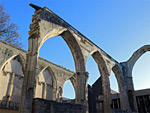 Greyfriars, Gloucester
Walls, windows and arches from the church of a medieval friary, founded around 1231 and rebuilt in 1531



Rating:

★★

★★★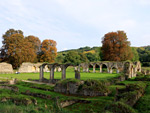 Hailes Abbey
Limited but atmospheric and picturesque ruins of a Cistercian monastery; arches of the cloisters, and foundations of other buildings



Rating:

★★★★

★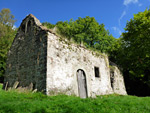 St James' Church
Ruins of a small church in the Wye Valley, the only remnant from the medieval village of Lancaut



Rating:

★★★

★★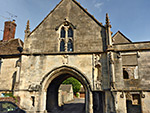 Kingswood Abbey Gatehouse
Intact gatehouse of a Cistercian monastery, the remainder having been completely demolished



Rating:

★★

★★★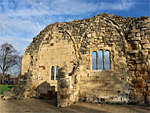 St Oswald's Priory
Fragmentary but evocative remains of an ancient priory, near the centre of Gloucester



Rating:

★★

★★★
Hampshire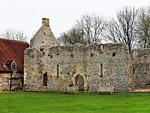 Bishop's Waltham Palace
Atmospheric, quite substantial remains of a 13th century moated palace, destroyed after the Civil War



Rating:

★★★

★★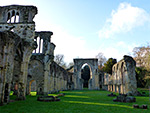 Netley Abbey
Large, well preserved, 13th century monastery near Southampton Water, later converted to a Tudor mansion



Rating:

★★★★★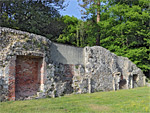 Southwick Priory
Foundations and one large wall fragment from an Augustinian priory established in 1133, subsequently transformed into a manor house



Rating:

★

★★★★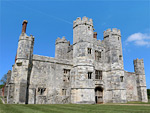 Titchfield Abbey
Premonstratensian monastery, converted to a mansion after the Reformation in the 16th century, then partially dismantled in the 1780s



Rating:

★★★

★★
Herefordshire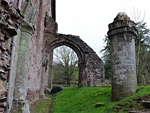 Dore Abbey
Parish church with medieval, cathedral-like architecture. Founded in 1147 as a Cistercian monastery, and occupying just part of the original structure; ruins of other sections adjoin the current church



Rating:

★★★

★★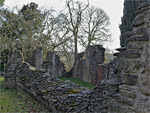 Edvin Loach Old Church
Minor but interesting ruins of an 11th century church, on the site of a small Norman castle; adjoins a replacement, Victorian church



Rating:

★★

★★★
Monmouthshire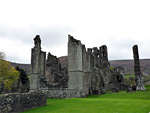 Llanthony Priory
Ruined Augustinian priory in a remote location within the Black Mountains; dark, aged masonry and soaring Gothic arches



Rating:

★★★★★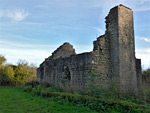 Runston Chapel
Roofless ruin of a small Norman chapel, in a rural location southwest of Chepstow



Rating:

★

★★★★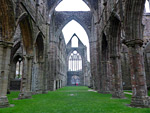 Tintern Abbey
Substantial, beautiful ruined abbey on the floor of the Wye Valley, beneath steep, forested slopes; established in the 12th century



Rating:

★★★★★
Neath Port Talbot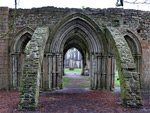 Margam Abbey
Parish church occupying the nave of an ancient abbey, beside monastic remains including a 12-sided chapter house



Rating:

★★★

★★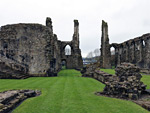 Neath Abbey
Substantial remains of a major Cistercian monastery including a huge church, and a 16th century mansion



Rating:

★★★★★
Oxfordshire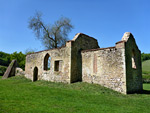 Bix Brand Old Church
Remote, crumbling ruins of a small Norman church with some Saxon stonework; a scheduled ancient monument



Rating:

★★

★★★
Powys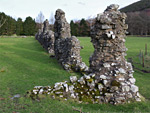 Cwmhir Abbey
Low walls from a once great monastic church, in peaceful countryside a few miles north of Llandrindod Wells



Rating:

★★

★★★



Somerset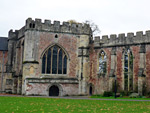 Bishop's Palace
Extensive, moated, castle-like residence of the bishops of Bath and Wells, begun in the 13th century; one ruined section, the great hall, but otherwise intact



Rating:

★★★★

★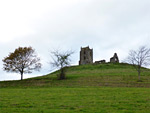 Burrow Mump
Isolated, conical hill rising 70 feet above the flat, marshy farmland of the Somerset Levels, topped by a ruined, 18th century church



Rating:

★★

★★★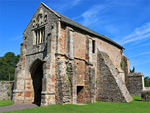 Cleeve Abbey
Cistercian monastery in a quiet, rural setting with many original, well preserved buildings, mostly from the 13th century, plus the foundations of the abbey church



Rating:

★★★★

★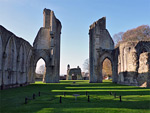 Glastonbury Abbey
Imposing and evocative ruins of a famous and wealthy monastery, established in the 7th century



Rating:

★★★★★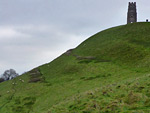 Glastonbury Tor
Famous limestone hill topped by the ruined tower of the 14th century St Michael's Church



Rating:

★★★

★★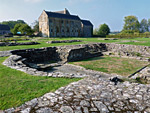 Muchelney Abbey
Relics from an ancient Benedictine monastery; abbot's house, reredorter and part of the cloisters, together with extensive wall foundations



Rating:

★★★

★★
Surrey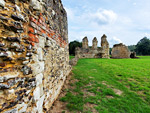 Waverley Abbey
Fragmentary though impressive remains of the first Cistercian abbey in England, founded 1128



Rating:

★★★★

★
Vale of Glamorgan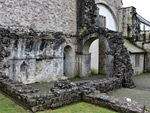 Ewenny Priory
Parish church occupying part of a 12th century abbey, with a partly ruined fortified exterior



Rating:

★★★

★★



Wiltshire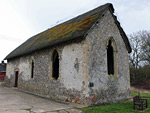 Chisbury Chapel
Small 13th century church, later used as a barn but retaining some original features



Rating:

★

★★★★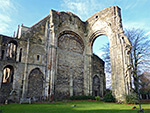 Malmesbury Abbey
Parish church occupying part of an older, much larger building, the remainder of which was destroyed in the 1500s



Rating:

★★★

★★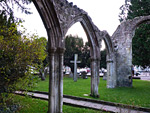 St Mary's Church, Wilton
Victorian chapel occupying the chancel of a medieval church, adjacent to the ruins of the original nave



Rating:

★★

★★★
Worcestershire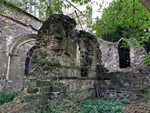 Little Malvern Priory
Picturesque parish church at the foot of the Malvern Hills, occupying part of a larger building from a 12th century Benedictine monastery



Rating:

★★★

★★