Photogenic Landscapes and Historic Sites in Wiltshire
Wiltshire
extends 50 miles north to south and 35 miles west to east, adjoining
Gloucestershire
, Berkshire, Hampshire, Dorset and
Somerset
. All the county has similar landscapes, of fields and woods; generally quite hilly, and split by several wide valleys, but with no particularly high land or overly dramatic natural features. Contained within are about half of the
North Wessex Downs
(the remainder is in Berkshire), a small part of the
New Forest
in the south, a narrow section of the
Cotswolds
in the north, most of
Cranborne Chase
and nearly all of
Salisbury Plain
. The latter two are extensive chalk plateaus - this rock underlies well over half of the county, part of a great exposure that stretches eastwards towards Dover, and is responsible for nearly all of Wiltshire's high ground. A number of slopes have been cut to create white chalk figures such as the horses at Chervil, Marlborough and Westbury. The county town of Wiltshire is Trowbridge; other major places include Swindon, Salisbury, Chippenham, Melksham and Devizes.
Wiltshire contains a reasonable variety of ancient places, spanning several millennia, though these are fewer in number than some adjacent counties, and is especially well known for its prehistoric and Neolithic sites. Most famous are
Stonehenge
and
Avebury
but there are dozens of lesser locations including burial mounds, ditches, hill forts, standing stones and pathways. The country has one cathedral (
Salisbury
), three ruined castles (
Ludgershall
,
Old Sarum
and Old Wardour), a dozen or more major stately homes - Longleat and Stourhead are the most visited - and a large number of old churches, though no ruined abbeys.
Castles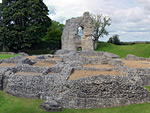 Ludgershall Castle
Tower remains and low wall remnants from a small, 12th century castle frequented by Henry III



Rating:

★★

★★★
Old Sarum
Remains of an Iron Age fort, a Norman castle and an abbey; the original settlement of Salisbury



Rating:

★★★

★★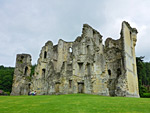 Old Wardour Castle
Spectacular and substantial ruins of a fortified house, with an unusual, French-style, hexagonal layout; built at the end of the 14th century



Rating:

★★★★

★;
Cathedral and Churches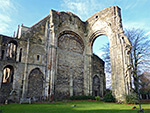 Malmesbury Abbey
Parish church occupying part of an older, much larger building, the remainder of which was destroyed in the 1500s



Rating:

★★★

★★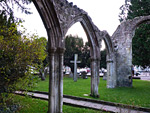 St Mary's Church, Wilton
Victorian chapel occupying the chancel of a medieval church, adjacent to the ruins of the original nave



Rating:

★★

★★★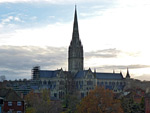 Salisbury Cathedral
One of the largest and most beautiful religious buildings of England, with the tallest spire in the country. Most of the cathedral was constructed in the 13th century



Rating:

★★★★★
Nature Reserves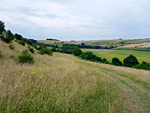 Coombe Bissett Down
Narrow, dry valley with steeply-sloping sides, in chalk downland on the south side of the River Ebble



Rating:

★

★★★★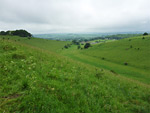 Dunscombe Bottom
Small nature reserve across the west-facing side of a dry, grassy, chalk valley, with a wide selection of spring and summer wildflowers



Rating:

★

★★★★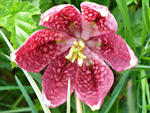 Lower Moor Farm
Gateway to four linked nature reserves at the edge of Cotswold Water Park, also including Clattinger Farm, Sandpool and Oaksey Moor Farm Meadow



Rating:

★★

★★★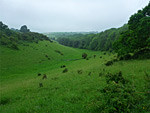 Middleton Down
Remote, branched, grassy valley in the chalk downland of southwest Wiltshire; a noted wildflower location



Rating:

★★

★★★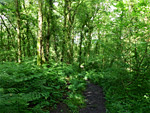 Oysters Coppice
Deciduous woodland on a gently sloping hillside above the Vale of Wardour, crossed by a few boggy streams



Rating:

★

★★★★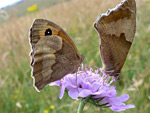 Parsonage Down
Large expanse of grassland and fields across undulating chalk hills, also a working farm. Home to over 150 plant species



Rating:

★

★★★★
Other Historic Buildings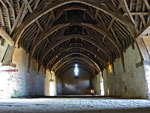 Bradford-on-Avon Tithe Barn
Perfectly preserved 14th century barn with buttressed stone walls and an intricately constructed timber roof



Rating:

★

★★★★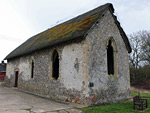 Chisbury Chapel
Small 13th century church, later used as a barn but retaining some original features



Rating:

★

★★★★

Lacock Abbey - 13th century monastery, later convered to a mansion, retaining many original features


Prehistoric Sites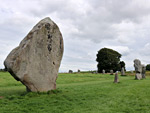 Avebury World Heritage Site
Varied collection of ancient monuments including a burial chamber, the highest artificial hill in Europe (Silbury), a stone avenue, and the world's largest stone circle



Rating:

★★★★★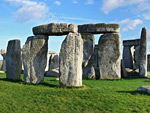 Stonehenge
A World Heritage Site and Britain's most famous prehistoric monument, on undulating, grassy land of the Salisbury Plain



Rating:

★★★★★
Map of Featured Wiltshire Locations