Hills and Mountains of Southwest UK
The only true mountains in southwest UK are the
Brecon Beacons
and neighbouring ranges, all contained within
Brecon Beacons National Park
, though even these are not especially dramatic or craggy compared with Snowdonia in north Wales, or many other peaks further north. The highest point, 2,907 foot
Pen y Fan
, is an especially popular destination, climbed by hundreds of people on some days, though most other areas of the park are much less visited, and true solitude can still be found. The point furthest from a road (about 3 miles) is within the Black Mountain Fans, also not very remarkable compared with other mountains, but still distant enough for an authentic wilderness experience. Besides the peaks, nearly all of which are smooth-sided, flat-topped, and covered by short grass, generally without any rocky outcrops, the national park also contains valleys, waterfalls, caves, reservoirs and assorted historic structures.
Other significant high elevation regions consist of hills or plateaus rather than mountains, such as the extensive moorland of Dartmoor and Exmoor, and narrower ranges of hills including the
Malverns
, Quantocks, Blackdowns and Mendips. The latter rise up to 1,000 feet above the surroundings and contain one significant open, moor-like area (
Black Down
), plus several smaller unfenced regions including around
Cheddar Gorge
and at
Crook Peak
. The Cotswold Hills are rather less dramatic, and the elevation is only properly evident along the perimeter, especially along the west edge, where the ground drops abruptly towards Seven Vale, viewed example at
Barrow Wake
,
Coaley Peak
,
Crickley Hill
and
Swift's Hill
.
Ceredigion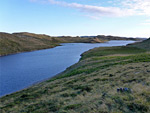 Teifi Pools
Remote lakes in barren moorland towards the west edge of the Cambrian Mountains, explored via a loop path or off-trail walking



Rating:

★★★★

★
Devon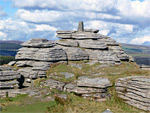 Bellever Tor
Large tor with much exposed, weathered granite, offering panoramic views; at the centre of Dartmoor National Park



Rating:

★★★

★★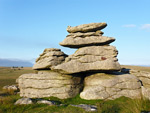 Foggintor Quarry and King's Tor
Abandoned granite quarry centred on a large pool, accompnanied by some ruined buildings, and a photogenic tor



Rating:

★★★

★★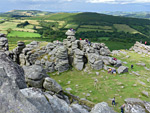 Haytor Rocks and Hound Tor
Granite outcrops in Dartmoor National Park, plus a ruined medieval village and several old quarries



Rating:

★★★★

★
Gloucestershire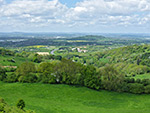 Barrow Wake Nature Reserve
Steep-sided limestone hill along the edge of the Cotswolds, with fine westwards views and over 100 plant species



Rating:

★

★★★★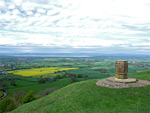 Coaley Peak
High point along the west edge of the Cotswolds, with views to the Severn valley. Also site of a prehistoric burial chamber



Rating:

★★

★★★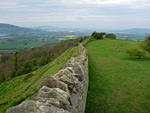 Crickley Hill
Prominent limestone hill at the edge of the Cotswolds, overlooking Gloucester and the Severn valley; a noted wildflower location, plus old quarries and the remains of an Iron Age hillfort



Rating:

★★

★★★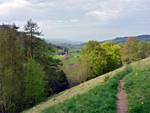 Swift's Hill Nature Reserve
Hillside nature reserve; a noted location for wildflowers, including 15 species of orchid



Rating:

★★

★★★
Herefordshire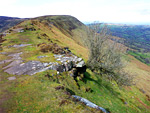 Black Hill and Olchon Valley
Easternmost summit of the Black Mountains, tapering to a narrow, rock-lined ridge, overlooking a secluded valley



Rating:

★★★★★
Monmouthshire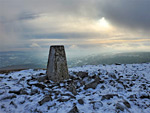 Blorenge
Flat-topped summit, high point of the hills south of Abergavenny, west of the River Usk. Reached by a 0.8 mile path



Rating:

★★★

★★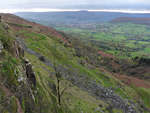 Skirrid Fawr
Eastern outlier of the Black Mountains, circled by a 4 mile trail; overlooks a large area of south Wales



Rating:

★★★

★★
Merthyr Tydfil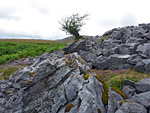 Darren Fawr
Limestone plateau edged by sheer cliffs and steep scree slopes, above the Taf Fawr valley



Rating:

★★★

★★
Somerset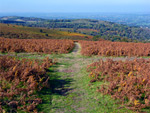 Black Down
The highest summit of the Mendip Hills, at the centre of a sizable area of moorland



Rating:

★★★

★★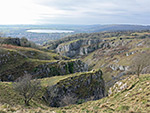 Cheddar Gorge
Famous limestone ravine at the south edge of the Mendip Hills, containing several caves, and viewable via a 3 mile loop path



Rating:

★★★★

★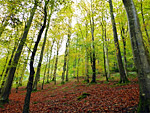 Cockercombe and Triscombe Stone
Wooded valleys in the Quantock Hills, and a section of the ancient ridgeline path



Rating:

★★

★★★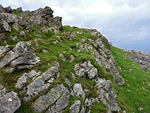 Crook Peak
Rocky summit with excellent views; the most distinctive peak in the Mendip Hills



Rating:

★★

★★★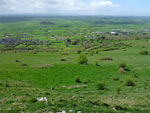 Draycott Sleights
Nature reserve at the southern edge of the Mendip Hills; good views and over 150 wildflower species



Rating:

★★

★★★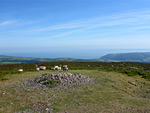 Dunkery Beacon
The highest point on Exmoor, surrounded by gentle slopes covered with heather and gorse, overlooking Porlock Bay and the Bristol Channel



Rating:

★★★

★★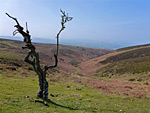 Hodder's Combe and Beacon Hill
Wooded valley and a 1,018 foot summit overlooking the Bristol Channel; in the northern half of the Quantock Hills



Rating:

★★★

★★
Powys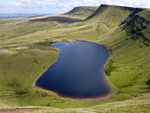 Black Mountain Fans
Summits along a dramatic ridge above two isolated lakes, on the west side of the park



Rating:

★★★★★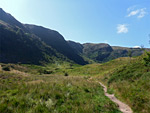 Craig Cerrig Gleisiad
Sheltered, north-facing cliffs harboring rare plant species, protected as a National Nature Reserve



Rating:

★★★

★★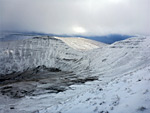 Cwm Serre and Cribyn
Steep-sided valley with many small waterfalls, and a high summit



Rating:

★★★

★★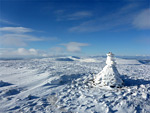 Fan Fawr and Beacons Reservoir
Summit in the Fforest Fawr region, and a scenic reservoir lined by trees; explored by a 4 mile loop hike



Rating:

★★★★

★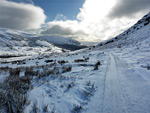 Gospel Pass
The highest paved road in Wales, between two peaks at the head of a remote valley in the Black Mountains



Rating:

★★★★

★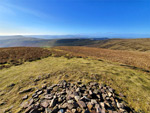 Grwyne Fechan and Pen y Gadair-Fawr
Loop hike around the upper end of the Grwyne Fechan valley, also visiting the summit of Pen y Gadair-Fawr



Rating:

★★★★

★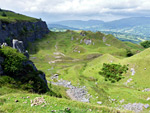 Llangattock Escarpment
Limestone cliffs below the rim of a grassy, boggy plateau with a wind-swept lake; site of several cave entrances, and 18th century quarries



Rating:

★★★

★★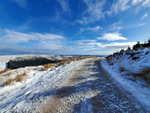 Mynydd du Forest and Pen y Gadair Fawr
Conifer plantation in the Grwyne Fawr valley, crossed by various tracks, one linking with a path to an isolated summit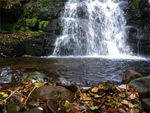 Nant Cynafon and Waen Rydd
Wooded valley, stream with waterfalls, open slopes, a flat summit, viewpoints and an aircrash site



Rating:

★★★★★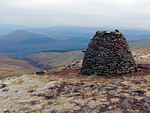 Nant Tarthwyni and Waen Rydd
Wooded valley containing a small stream with pools and cascades, leading to a flat-topped peak



Rating:

★★★

★★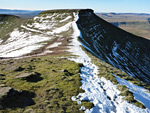 Pen y Fan and Fan y Big Horseshoe Walk
Spectacular loop hike to four summits in the Brecon Beacons, including the two highest points (Corn Du and Pen y Fan)



Rating:

★★★★★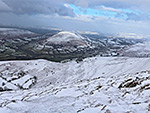 Table Mountain, Pen Cerrig-calch and Pen Allt-mawr
Summits in the Black Mountains, reached by a 9 mile loop hike



Rating:

★★★★

★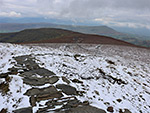 Waun Fach, Grwyne Fawr and Nant Bwch
Loop hike along ridges and valleys to several peaks on the north side of the Black Mountains



Rating:

★★★★

★
Worcestershire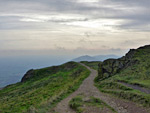 Malvern Hills
Relatively long, tall and narrow range of hills, lying along the border with Herefordshire; an Area of Outstanding Natural Beauty



Rating:

★★★★

★