Coastlines of Southwest UK
Southwest UK is justifiably famous for its spectacular
coastline
, some parts of which are easy to reach though others are rarely visited; even the coast path has to run quite far inland in places, up to half a mile, owing to steep slopes below, in particular the western part of Somerset, and some sections of north and south Devon. The majority of the coast is lined by cliffs, terraces and eroded rock formations, with sand or pebble beaches at intervals; only along on the upper reaches of the Severn Estuary is the scenery less interesting, since here the sea is mostly bordered by mudbanks and flat grassland.
The coast in this part of the UK can be divided into three sections - south Wales, Somerset/north Devon, and Dorset/south Devon.
South Wales
Starting in the east, the south Wales coast becomes scenic just beyond Cardiff (at
Lavernock Point
), as here the muddy flats are replaced by extensive outcrops of thin-layered limestone, which extend all along the edge of Vale of Glamorgan to
Ogmore-by-Sea
, a 14 mile section known as the
Glamorgan Heritage Coast
. Other notable areas include
Aberthaw to Stout Bay
,
Stout Bay to Nash Point
and
Temple Bay to Dunraven Bay
. From Ogmore to Swansea the coast was once covered by a huge dune system stretching up to 2 miles inland, and this survives in two main locations (
Merthyr Mawr
and
Kenfig
, both national nature reserves), the remainder long since replaced by the suburbs of Port Talbot and the adjacent steelworks. Rocks return west of Swansea, mostly carboniferous limestone, and also heavily eroded, lining the south and west sides of the
Gower Peninsula
, below which are a number of popular, sandy beaches, principally
Langland
,
Caswell
,
Three Cliffs Bay
,
Oxwich
,
Port Eynon
,
Mewslade
and Rhossilli. Two other notable locations are the dramatic promontory of
Worm's Head
at the southwestern tip of the peninsula, and the remote dunes of
Whiteford National Nature Reserve
in the northwest. Further west are the broad inlets of the Loughor and Towy rivers, before the even more extensive cliffs and beaches of Pembrokeshire.
Somerset and North Devon
The predominantly low, mud-lined coast along the south side of the Bristol Channel is interrupted by few rocky outcrops, at
Aust
(in Gloucestershire) and from
Portishead to Clevedon
, then at
Sand Point
,
Worlebury Hill
and
Brean Down
, all in Somerset, but there is not much else of photographic interest on this stretch, southwards to the mouth of the River Parrett. West of the river are several miles of dunes and broad, pebble beaches including Fennig Island National Nature Reserve, until beyond the Hinkley Point power station, where low cliffs appear, formed of the same grey/blue lias that is exposed on the opposite side of the Bristol Channel, in Glamorgan. These rocks stretch for 12 miles, to
Blue Anchor Bay
near Minehead, with perhaps the most scenic stretch being the 4 miles between
Lilstock and St Audrie's Bay
. Further west in Somerset, continuing into north Devon, the land rises steeply by up to 1,000 feet, along the edge of Exmoor, forming spectacular cliffs cloaked by dense coastal forests, explorable from above via the coast path, and below by careful walking at sea level, at low tide. Sections include
Minehead to Hurlstone Point
,
Porlock Weir to Glenthorne Beach
,
Glenthorne Beach to Foreland Point
and
Valley of Rocks to Woody Bay
. This region includes the highest sea cliffs in England, and some of its most isolated, inaccessible terrain.
Dorset and South Devon
The most famous section of the south Devon and south Dorset shoreline is the
Jurassic Coast
, a World Heritage site, covering the 95 miles between Orcombe Point, near Exmouth in Devon, and
Old Harry Rocks
, south of Bournemouth in Dorset - all is lined with sand/pebble beaches below fossiliferous rocks, varying greatly in colour, orientation, form and hardness. As with north Devon, most is usually explored from above, along the coast path, though nearly all is also accessible at sea level, at least around low tide. Notable sections, from west to east, include
Exmouth to Budleigh Salterton
,
Budleigh Salterton to Ladram Bay
,
Ladram Bay to Sidmouth
,
Branscombe to Beer
,
Axmouth to Lyme Regis
,
Lyme Regis to Seatown
and
Durdle Door to Lulworth Cove
. Further south, the Devon coast stays mostly cliff-bound but becomes more rugged and irregular, with smaller beaches, and is generally less accessible.
England
Cornwall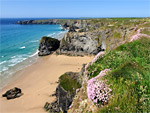 Bedruthan Steps
Sea stacks and a wide sandy beach, at the foot of steep, wildflower-covered cliffs



Rating:

★★★★

★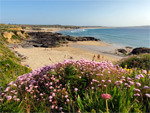 Godrevy Beach
Broad sandy beach bordered by terraces and cliffs of dark-coloured slate, beneath sandy bluffs bearing varied wildflowers



Rating:

★★★★

★
Devon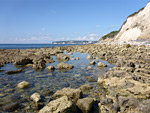 Axmouth to Lyme Regis
Cliffs, beaches and landslips along a remote, 7 mile section of the Jurassic Coast; includes Haven Cliffs, Goat Island, Charton Bay and Pinhay Bay



Rating:

★★★★

★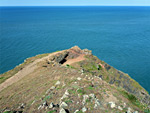 Baggy Point
Cliff-lined headland with some rocky terraces; interesting geology and varied wildflowers



Rating:

★★★

★★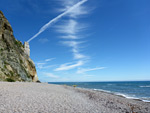 Beer Head
Sheer cliffs, sea caves and scenic beaches along the Jurassic Coast; Beer, Pounds Pool Beach, Hooken Undercliffs and Branscombe Mouth. Also many summer wildflowers



Rating:

★★★★

★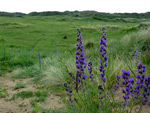 Braunton Burrows
The second largest dune system in the UK; numerous plant and animal species



Rating:

★★★

★★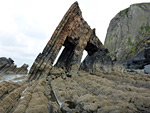 Brownsham to Clovelly
Tall cliffs, a famous village, and a wooded valley leading to Mouthmill Beach, site of Blackchurch Rock, a double arch



Rating:

★★★

★★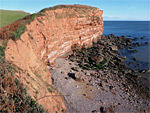 Budleigh Salterton to Ladram Bay
Red-rock coastline east of the River Otter; sheer cliffs above narrow, inaccessible beaches and marine terraces



Rating:

★★★★

★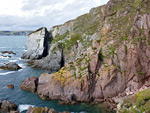 Burgh Island
Cliff-lined island opposite the popular sandy beach at Bigbury-on-Sea



Rating:

★★★

★★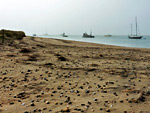 Dawlish Warren
Sandy promontory at the mouth of the River Exe containing varied habitats, home to many plant species



Rating:

★★★

★★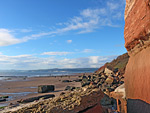 Exmouth to Budleigh Salterton
The westernmost four miles of the Jurassic Coast; richly-coloured red cliffs and sand/pebble beaches



Rating:

★★★★

★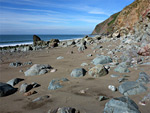 Foreland Point to Lynmouth
2.5 miles of north Devon coastline, from a high headland to the mouth of the River Lyn



Rating:

★★★★

★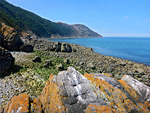 Glenthorne Beach to Foreland Point
Spectacular, three mile section of the north coast, with dense woodland sloping steeply down to remote beaches and eroded rock formations



Rating:

★★★★★
Hartland Quay to Marsland
Spectacular, five mile section of the Hartland Peninsula; cliffs and steep slopes above rock, pebble and sand beaches



Rating:

★★★★★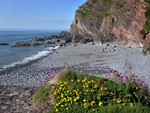 Heddon's Mouth
Cliff-lined pebble and sand beach at the lower end of the River Heddon, reached by an easy walk along a deep, secluded, wooded valley



Rating:

★★★

★★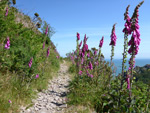 Heddon Valley to Sherrycombe
Four mile section of the north Devon coast, between two deep valleys, inaccessible at sea level but followed by the coast path up to 900 feet above



Rating:

★★★★

★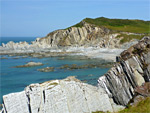 Mortehoe to Lee Bay
Slate cliffs, eroded formations and secluded beaches along the northwestern part of the Devon coast



Rating:

★★★★★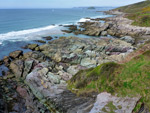 Noss Mayo to Stoke Down
Narrow inlets, tiny beaches and grassy promontories, and much colourful, jagged, eroded rock



Rating:

★★★★★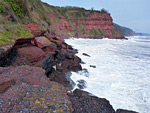 Shaldon to Watcombe
Three mile stretch of the east Devon coastline near Teignmouth, lined by high cliffs of red breccia,



Rating:

★★★★

★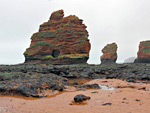 Sidmouth to Ladram Bay
Red sandstone cliffs, isolated beaches and large sea stacks; part of the Jurassic Coast



Rating:

★★★★★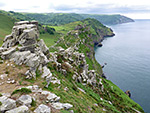 Valley of Rocks to Woody Bay
Rock formations, isolated beaches, steep cliffs and coastal woodland, west of Lynton. Includes Wringcliff Bay and Lee Bay



Rating:

★★★★★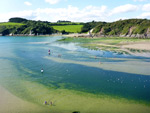 Wonwell Beach to Ayrmer Cove
Rugged section of the coastline, from the River Erme, eastwards, also including Fernycombe Point and Westcombe Beach



Rating:

★★★★

★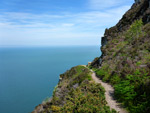 Woody Bay to Heddon Valley
Two miles of coastline, including the rocky headland of Highveer Point and the valley of Hollow Brook, which forms a tall waterfall



Rating:

★★★

★★
Dorset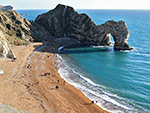 Durdle Door and Lulworth Cove
Sea arch and a circular cove, part of a varied section of the coast that also has headlands, sandy beaches, chalk cliffs and other eroded formations



Rating:

★★★★★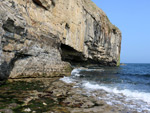 Durlston Head to Seacombe
Cliff-bound section of the Jurassic Coast on the Studland Peninsula, including Anvil Point, Dancing Ledge and Headbury Quarry



Rating:

★★★

★★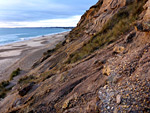 Hengistbury Head
Headland centred on a hill of colourful sedimentary rock; also has wetlands, dunes, heath, sandy beaches and saltmarsh



Rating:

★★★★

★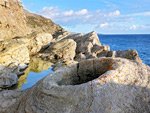 Lulworth Cove to Mupe Bay
Short section of the Jurassic Coast, including sea stacks at Mupe Rocks and Bacon Hole, and remains of ancient trees at the Fossil Forest



Rating:

★★★★

★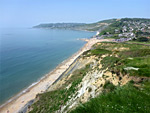 Lyme Regis to Seatown
High cliffs, wildflower meadows and pebble beaches along five miles of the Jurassic Coast, including Charmouth, Stonebarrow Hill and Golden Cap



Rating:

★★★★

★
Old Harry Rocks
Inaccessible chalk stacks below vertical cliffs, with more spires nearby (The Pinnacles), and the high ground of Ballard Down



Rating:

★★★★

★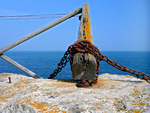 Portland Bill
The southernmost tip of the Isle of Portland; flat land ringed by low cliffs of limestone and chert, formerly quarried



Rating:

★★★

★★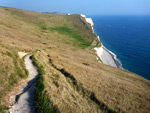 Ringstead Bay to Bat's Head
Three mile section of the coast, lined by high chalk slopes with narrow beaches below; includes the promontory of White Nothe



Rating:

★★★

★★
Gloucestershire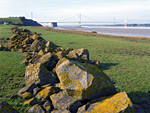 Aust to Littleton Pill
Partly cliff-lined, fossiliferous section of the Severn Estuary, either side of the original motorway bridge



Rating:

★★

★★★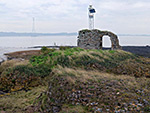 Beachley Point and Chapel Rock
Low cliffs at the tip of the peninsula between the rivers Wye and Severn, and a tidal island centred on a ruined medieval chapel



Rating:

★★

★★★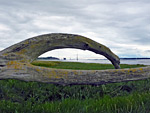 Littleton Pill to Oldbury Pill
1.3 mile stretch of flat land beside the Severn Estuary, between two road access points, a good location for saltmarsh plants



Rating:

★

★★★★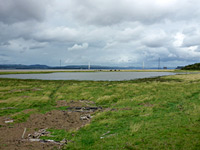 Pilning to Aust
Three miles of the Severn Estuary coastline, lined by saltmarsh, including the Pilning Wetlands, a series of artificially-created pools



Rating:

★

★★★★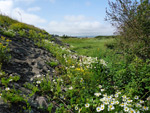 Severn Beach to Avonmouth
Three miles of flat Severn Estuary coastline, mainly saltmarsh with some sand and shingle; good for wildflowers



Rating:

★

★★★★
Somerset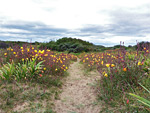 Berrow Dunes
Grassy and sandy dunes stretching over 2 miles along the west Somerset coast, partly occupied by a golf course and partly by a local nature reserve



Rating:

★★

★★★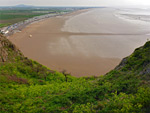 Brean Down
High, narrow limestone peninsula along the north Somerset coast, lined by cliffs; site of a 19th century fort and several more ancient relics



Rating:

★★★

★★
Clevedon to the River Yeo
Four mile stretch of the coast; limestone cliffs and some pebble beaches, but mostly saltmarsh and grassy fieldss



Rating:

★★★

★★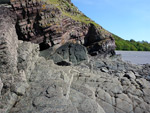 Hurlstone Point to Porlock Weir
Saltmarsh, fields, ruins and a long pebble beach, between two sandstone headlands



Rating:

★★★

★★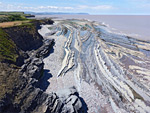 Lilstock to St Audrie's Bay
Four mile stretch of the coast, including Kilve Pill and Quantock's Head, with layered, blue lias cliffs above extensive, wave-cut terraces



Rating:

★★★

★★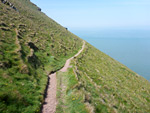 Minehead to Hurlstone Point
Cliffs and pebble beaches along a spectacular, little-visited, five mile section of the north Somerset coast



Rating:

★★★★★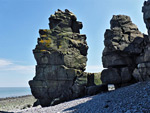 Porlock Weir to Glenthorne Beach
Five miles of the Somerset coast; rarely-seen beaches and eroded sandstone formations below steep cliffs and extensive ancient woodland



Rating:

★★★★★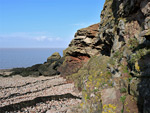 Portishead Coast
Low cliffs, eroded rocks, pebble beaches and a lighthouse, along the Bristol Channel coastline between Portishead and Clevedon



Rating:

★

★★★★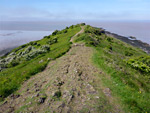 Sand Point and Middle Hope
Narrow promontory and elevated headland overlooking the Bristol Channel, lined by stony beaches and eroded rock formations



Rating:

★★

★★★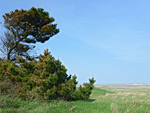 Stert Point
Peninsula between Bridgewater Bay and the River Parrett; sand and shingle beaches, mudflats and saltmarsh



Rating:

★

★★★★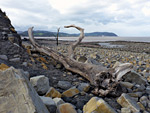 Watchet to Minehead
6.5 miles of coastline; complex cliffs and rock formations, giving way to grassland and sand/pebble beaches



Rating:

★★★★

★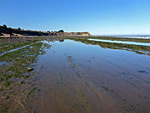 Watchet to St Audrie's Bay
Three mile stretch of the coast, with layered cliffs, pebble banks, wave-cut terraces, sand/mud beaches and a moss-lined waterfall



Rating:

★★★

★★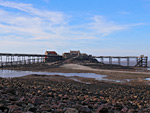 Worlebury and Birnbeck Island
Rocky, cliff-lined beach of pebbles, sand and mud, and a tidal island linked by a derelict pier, on the north side of Weston-super-Mare



Rating:

★★★

★★
Wales
Bridgend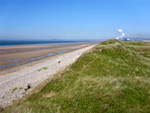 Kenfig National Nature Reserve
Varied coastal dune habitats, including sand, slacks, grassland, marsh, woodland and beaches, supporting a great range of plants and animals



Rating:

★★★★

★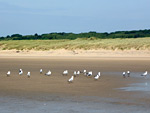 Merthyr Mawr National Nature Reserve
Coastal sand dunes near the River Ogmore; grassy near the sea, more overgrown further inland. Home to many wildflower species



Rating:

★★★

★★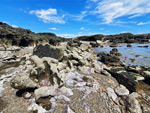 Sker Rocks
Wave-carved, inter-tidal rocks, all pinkish Mercia mudstone, containing innumerable tidepools and eroded formations



Rating:

★★★

★★
Newport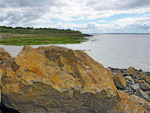 Newport Wetlands
Three mile stretch of the Gwent Levels, including saltmarsh, mudflats, saline lagoons, reedbeds, wet grassland and wet woodland



Rating:

★★

★★★
Swansea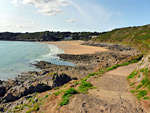 Caswell Bay to Langland Bay
Two sandy beaches lined by eroded cliffs of inclined limestone, linked by a short section of the coast path



Rating:

★★★

★★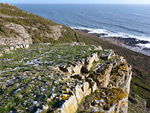 Oxwich to Horton
Three miles of limestone coastline; wave-cut terraces and other eroded formations, beneath grassy bluffs and higher cliffs



Rating:

★★★★

★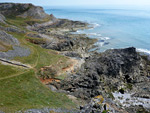 Port Eynon to Common Cliff
Spectacular, lightly-travelled, two mile section of the southern coast; limestone hills sloping down to rocky inlets, sea caves and wave-cut terraces



Rating:

★★★★

★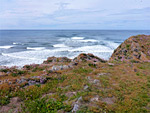 Rhossili Bay, Burry Holms and Broughton Bay
Broad sandy beaches separated by a line of limestone cliffs, a tidal island, and grassy sand dunes



Rating:

★★★★

★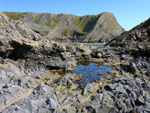 Tears Point to Common Cliff
Three miles of the most rugged, inaccessible and least-visited section of the Gower coastline



Rating:

★★★★★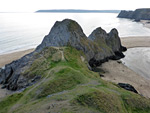 Three Cliffs Bay
Sandy inlet on the Gower Peninsula, bordered by dramatic cliffs, centred on a narrow promontory and crossed by a stream



Rating:

★★★★

★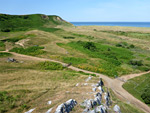 Whiteford National Nature Reserve
Sandy beaches, grassy dunes, wetlands and forest, on the remote northwestern corner of the Gower Peninsula



Rating:

★★★

★★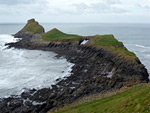 Worm's Head
Tidal island south of Rhossili Bay at the western tip of the Gower Peninsula, surrounded by limestone cliffs and eroded formations



Rating:

★★★★★
Vale of Glamorgan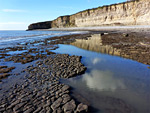 Aberthaw to Stout Bay
Cliffs, terraces and pebble beaches along the easternmost three mile portion of the Glamorgan Heritage Coast. Includes Limpert Bay, Penry Bay and Summerhouse Point



Rating:

★★★

★★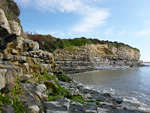 Barry to Aberthaw
Five mile stretch of the coast; long cliffs of thin-layered limestone above terraces and pebble beaches



Rating:

★★★

★★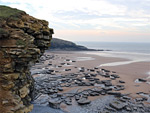 Dunraven Bay to Cwm Mawr
Cliffs, beaches and eroded rock formations along the Glamorgan Heritage Coast near Southerndown, plus gardens, a ruined mansion and a waterfall



Rating:

★★★★★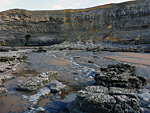 Nash Point to Cwm Mawr
Cliffs, terraces, beaches and rock pools along a three mile stretch of the coast, plus a stream with travertine formations



Rating:

★★★★

★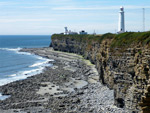 Nash Point to Stout Bay
Varied, little-visited, four-mile section of the Glamorgan Heritage Coast, with layered, vertical cliffs of blue lias above extensive wave-cut terraces



Rating:

★★★★

★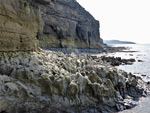 Ogmore-by-Sea
Wide sandy beach giving way to sheer limestone cliffs with caves, terraces and other eroded formations



Rating:

★★★★

★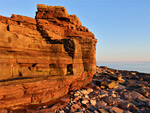 Sully Bay to Barry
Wide bay with grey pebbles and muddy terraces, bordered to the west by more photogenic red cliffs and eroded formations



Rating:

★★★

★★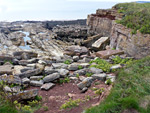 Sully Island to Lavernock Point
Headland, layered cliffs, level terraces, sand and pebble beaches, and an undeveloped tidal island



Rating:

★★★

★★